Building a finest App that do well on just one platform is a challenge itself. And when you decide to create an App for iOS and simultaneously for Android both is an another layer of twist and complexity. When you have a great plan and design, it will be always tempting to build and launch your App for each and every device that exist- We are correct. Aren't we? But to save both time and money, in the most of the cases it is advisable to focus on one platform and not multiple. Start building your App for one platform, one device. Get the first one right and than grow to another platforms.
Let's first take an Example of a popular App and than we will jump into the advantages and disadvantages of both the platform- iOS and Android.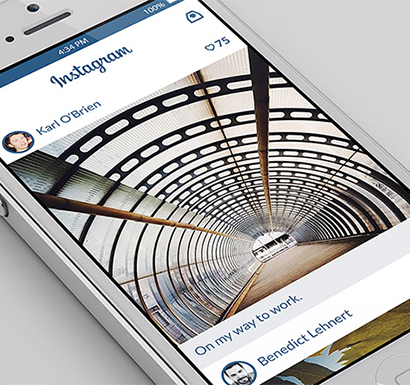 Instagram, a very famous personalized photo sharing App, was launched on iPhone in 2010. The App got so popular amongst the iPhone user that it got more than 30 million users in just two years. There must be so many reasons why they launched on iOS first but one reason is very confirmed that they want to capture the whole one platform and nail the experience of it.
Choosing between iOS and Android:
Let's have the background first of both the platform. This two companies, Apple and Android, share the smartphone market over 90% where Android is currently dominating the market share at over 80% and Apple is sharing the same at over 15%. But if we talk about profit sharing and revenue, Apple is leading the way at 85%. This is because the loyalty of Apple users as they stay with Apple rather than switching their OS frequently like Android. Iphone App Development India has higher chances to gain more profit from their loyal users.
Well! If we want a really quick answer for this dilemma that we can say that the return on Investment is generally much higher in iOS than Android but there are also other factors to be considered. Here they are!

1) Know your targeted market and consumer: If your focused Market area is Asia, Africa and America(South)
Advantage: Android
Yes it is true, because Apple focuses on luxurious phone market and customers with higher income where Android focuses on mass and quantity of customers. So for the Market places like Asia and Africa, Android is indeed an Advantage. Android App Development India is in the process to cover another region of the world too.
2) If you are aiming to make money through In-App purchases:
Advantage: Apple
For in-App purchase or chargeable apps, Apple produces 45% more income per user than Google makes from Android. Also, there is a bonus for Apple, that iOS users are 10% more likely to subscribe in-App purchases than Android.
3) Type of App:
a) If you are building a retail App:
Advantage: Apple
As far as online purchase is concern, a survey shows that Apple users are more likely to make purchases online than Android users. And the percentage for the same is 24% and 18% respectively. In addition to that iPhone users are more likely to visit online retail sites than Android.
b) If you are planning to build paid App:
Advantage: Apple
As Apple has always focused on premium phone market, the users' spending power of iOS must be higher than the Android users. This is one another reason why mobile App developers focus on iOS first as it is monetary profitable too.
4) Cost and variety of devices:
Advantage: Apple
Whether you kick start to design App for iOS or Android first, the cost for both platforms will be more or less similar. But in some cases, the cost to build an Android is higher because with Android you end up building Apps for so many devices from different manufacturers such as Sony, Motorola, Samsung, HTC etc., And it is a nightmare for the QA to get the UI/UX right in Android Platform.
So if we sum up everything, what matters in the end is how do you want to gain money with your App and what is your focused market. As we saw in this Article, iOS and Android both have their own Advantage and Disadvantages. Android provides you the platform to a broader Audience where in iOS gives you more engaged and loyal users.
Considering all the above factors, your own idea and design for an App and keeping profit in your mind, we hope you will be able to choose the correct platform for your App. Hyperlink Infosystem is always at your service to help you with every platform available in the market. Feel free to contact us.
Back