One of the latest and major update that have shaken the minds of developers is the engagement of Visual studio with Gaming Sectors Like Unity 3D&2D. Yes, you heard it right Visual studio is moving a step ahead while creating itself one stop solution for Cross-platform development with development of new Cross-platform IDE.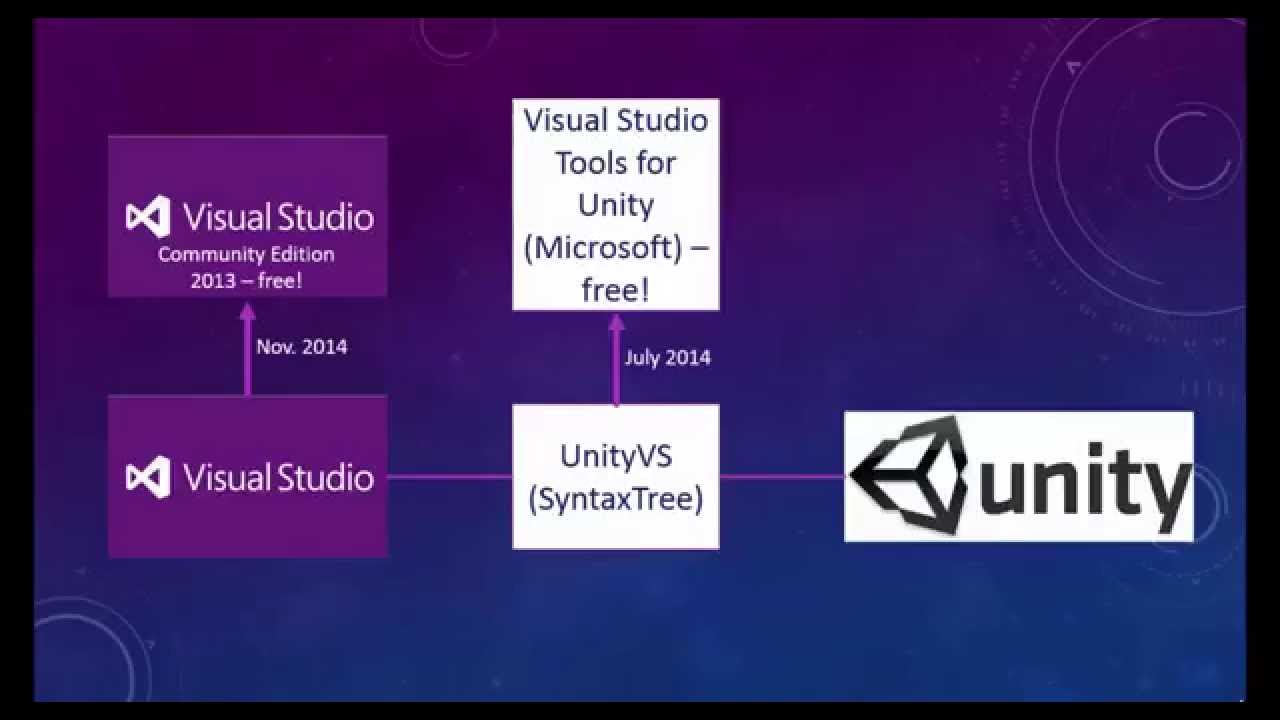 According to one source it has been announced that Microsoft purchased SyntaxTree Plug-in developers named UnityVs for an undisclosed price.
Exploring UnityVs:
It is a plug-in developed for development of cross-platform games.

It allows developers to use Cross-platform engine to write , test,develop and debug their logic straight away from visual studio.
Support:
Windows BlackBerry
Windows Phone Xbox 360
Windows Store Xbox One
iOS platform PlayStation 3
Android PlayStation 4
OS X Wii
Linux Wii U
Plug-in Costing:
Small-Size teams -> $99
Large-Size teams -> $249
Soon will me made available free from Microsoft.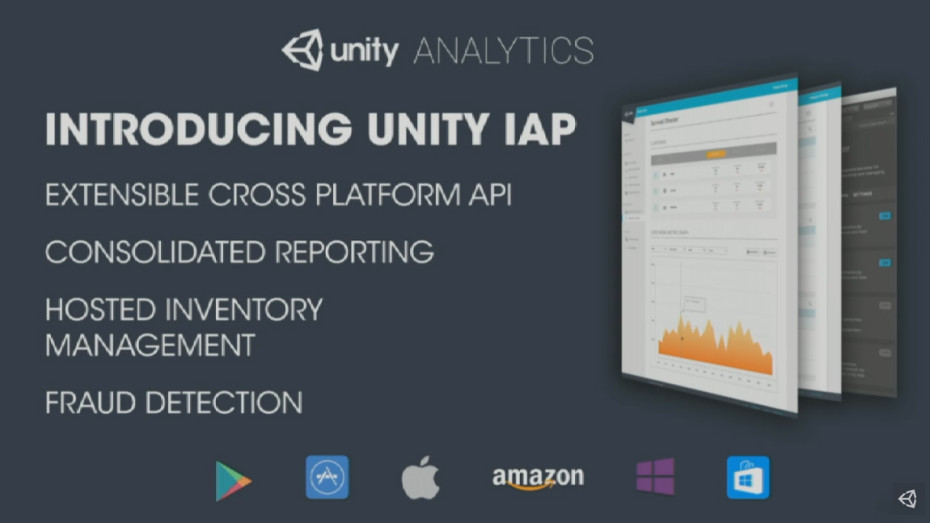 Let's have an look on environment that Visual studio serves for Unity:
Building of Cross-platform Games providing Interactive content:
Unity Engine amalgamate into single platform creating once 2D or 3D games and reciprocal content and publish it over 21 different platforms that includes all like mobile platforms as of
1) WebGL
2) Mac
3) PC and Linux desktop
4) Web or consoles
"Use Cross-platform and run on n number of Devices" is the main motto of Cross platform IDE.
Easy Debugging for Unity in Visual Studio: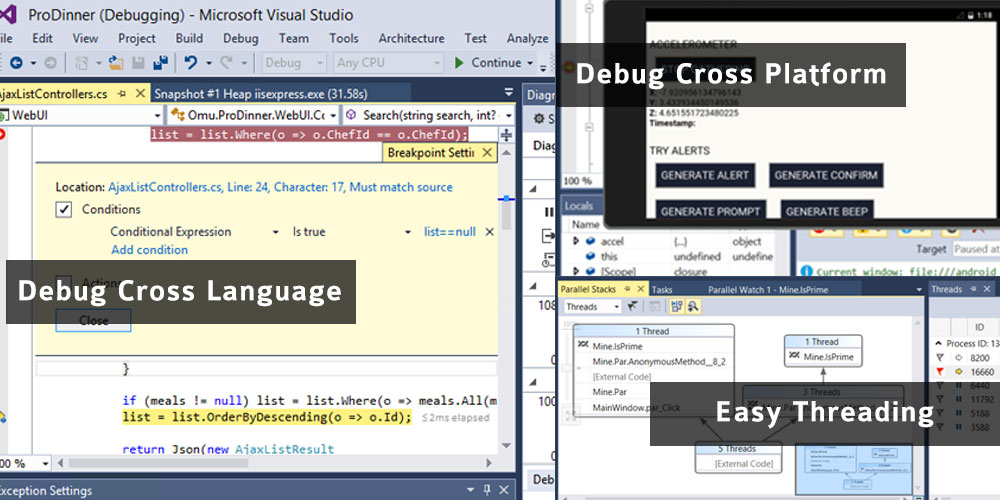 Experience premium debugging features in Visual Studio for Unity game engine.Instantly fix issues by rapidly debugging unity games in Visual Studio IDE. Set your breakpoints wherever you wish , Evaluate all variables & Expressions.one can also debug Unity game running either in Unity Editor or in Unity Player, or can even debug an external managed DLL in Unity Project.
Explore Project Explorer with Unity: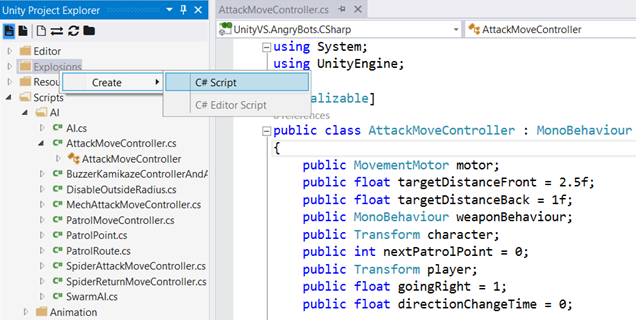 Project Explorer in Unity under Visual Studio displays all your Unity project files and directories in the similar hierarchy that the Unity Editor does. Using Unity Project Explorer one can navigate and create Unity scripts that no longer switch back and forth between multiple IDEs. You can open and edit the Unity scripts in the Visual Studio shader editor that let you enables syntax colorization for the Unity scripts.
Enhancing Productivity through Intelligence, browsing, and wizards: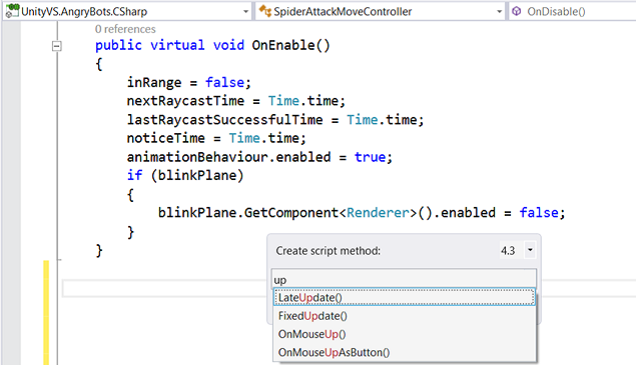 Visual Studio productivity by offering Intelligence, refactoring, and code browsing capabilities that lets you write code more productively by leveraging all the productivity features.You can customize coding environment by choosing your favorite font,theme,color & other related settings. One can also create unity scripts by Implementing Mono Behaviors and Quick MonoBehaviors Wizards.
Integration of Single Error in Unity Visual Studio: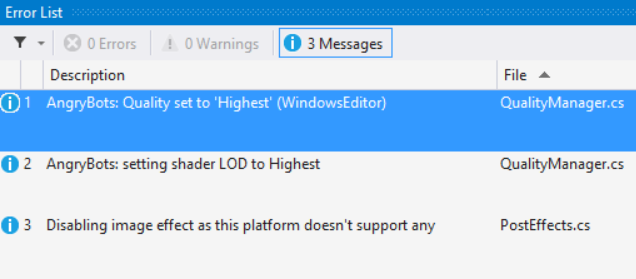 Build Unity Projects in Visual Studio and get Integrated Error List window inside it.It includes results from Unity Console through Instance that no longer need to switch back and forth between those multiple IDE's.
Over and above this added gaming functionality in visual studio. Microsoft is also been targeting to promote XAMARINE an IDE that permits developers to enhance applications for android,iOS, OS X, Windows phone , Store & Desktop. Besides this, Support of Cordova from Apache to Visual studio Will also be added as an add-on by company that let developer create apps targeting Android, Windows Phone and store, ans iOS platform.
So , this was all the Folk about Visual Studio engagement to Cross-Platform tech. Unity has mesmerized users by rolling out games like Temple run triology, Deus Ex:The Fall ,Satellite Reign, Assassin's Creed ,Wasteland2 , Kerbal Space Program etc. If you want to develop awesomeness like Unity 3D then top App development companies, like Hyperlink Infosystem is the solution. Unity3D is most Upcoming and Cross platform games that app developers India companies Hyperlink can surely develop using Visual Studio Cross-platform IDE, taking gaming zone at another heights. Contact us for Free quote for Unity 3D.
Back