It is common knowledge that location-based mobile applications allow you search for places like shops, hotels, restaurants, cafes, and cinemas, etc. Yes, this is the era of mobile applications and geolocation! A few years back people could only reach their destination with the aid of a location guide or proper address. Today, it can be quite challenging to find a place or a person physically. But with geolocation-based mobile application development, this once daunting task seem like a piece of cake.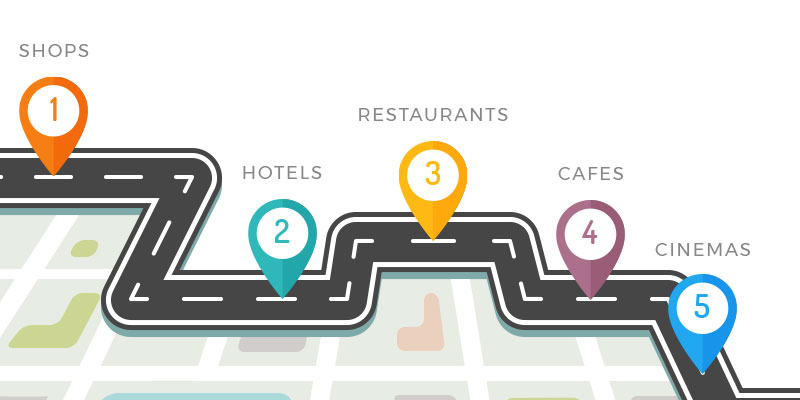 Since 2009, when the term geolocation was coined out, many
mobile app development companies
have continued to use the mobile feature to help users determine their location.
Geolocation technology has paved the way for many new startup ideas and enterprises which could never have come into existence without this technology. Thanks to the integration of geolocation into mobile applications, new kinds of market strategies have emerged and there is a remarkable improvement in the flow of interaction with consumers.
The integration of geolocation in mobile app development has provided a platform for some apps to boost their acquisition of members. So far this functionality seems to be booming as popular mobile applications and brands like
Facebook
,
Google Maps
, and
Foursquare
and have embedded it within their mobile apps.
How The Geolocation App Works
You can develop a good
location-based application development
solution using the GPS location or Geo Tag of a smartphone. Some of the location-based applications that can be created by mobile app developers include livestock trackers, weather alert systems, and location-based advertising systems. With the geolocation-based application, you can conveniently track the movement of a person, animal, car or any other object.
Mobile app developers require services and maps when developing geolocation based mobile applications. A couple of services are used to determine outdoor geolocation. Here are some of the most common.
1. GPS:
Nowadays all smartphones come with Global Positioning System chips. GPS picks up the timing and location transmitted by satellites from space.
For a smartphone to correctly determine the location within about sixty feet, it requires data from at four satellites.
2. Cell ID:
It isn't unusual for a GPS signal to be unavailable. On such occasions, you can make use of the information from cell towers. In major cities, mobile networks help in identifying the cell tower used by the customer and after that compares the finding with the base-stations database.
3. Assisted GPS:
Assisted GPS is far more accurate than GPS alone because it combines both GPS and Cell ID tool.
4. Wi-Fi:
Like the Cell ID, Wi-Fi detects the position of the user, but it does it more precisely. This is because it covers smaller areas. Using Wi-Fi, the location can be determined in two distinct ways. The first is known as
RSSI (Received Signal Strength Indicator)
. RSSI has to do with the signals from the phone found within the database of WI-FI.
The second one is used in locations that are regularly visited. It is referred to as wireless fingerprints mainly because it uses profiles of certain locations found in Wi-Fi networks. Also, It can accurately identify the position of the user, within two meters. When the location is captured, it is immediately placed on a real map using services like
Map Kit Framework or Google Maps geolocation. Hence, Google Maps APIs both for Android and iOS devices offers the functions of geolocation apps providing you with reliable information about your location. While Google Maps SDK for iOS basically plots the Maps, Google Places API for iOS is responsible for determining the location as well as many other advanced features.
5. Geofencing:
Geofencing helps you to know how close you are to a particular point. It uses GPS in the mobile device of the user to give accurate information. Geofencing also helps you to know whether users are inside or outside a building. Plus, it provides a personalized experience, in that it facilitates the sending of coupons to consumers. There are three types of geofencing triggers:
a) Dynamic: This trigger comes up based on the location of the user on the changing data stream.
b) Static: These occur based on the position of the user relevant to a particular spot.
c) Combined: This trigger is based on the location of the user relevant to other users.
Applications That Use GPS Information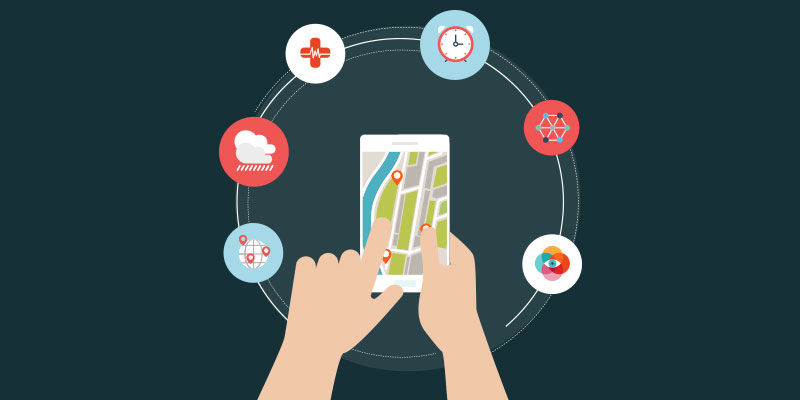 A good number of apps utilize the geolocation solution, and they include:
1) Maps And Navigation:
Google Maps, Waze, Maps for iOS use GPS to determine or find places of interest nearest the user and provides details on the most direct routes and other navigational information.
2) Weather Forecast Apps:
Geolocation is also useful for weather applications. Most users turn on their geolocation for the purpose of weather forecasting. Some of the applications that use geolocation data include Weather Underground and Yahoo Weather.
3) Geosocial Apps:
GPS has a great social power potential. Geolocation enables app you to share your location on social networks such Facebook, Twitter, and Instagram. This will no doubt increase brand awareness and allow access to your friends and contacts. Geolocation also makes streaming of services like Periscope possible.
4) Health And Fitness Apps:
GPS data is also relevant for the development of health and fitness apps as it can be used to track sports activities and patterns. An application like
Nike + Running
use GPS to help you keep track of your runs and eventually achieve your fitness goals. This app can tell where you are, how many miles you've covered, and even put the details on a map to review later.
5) Augmented Reality Apps:
GPS is also ideal for
Augmented Reality Application development
. Since this app uses the device's camera, developers who engage in augmented reality application development, have integrated GPS to identify the location of the user as well as add contextual information. In the end, an augmented reality experience will be created.
6) On-Demand Services:
Many mobile applications offer geolocation-based on-demand services. With geolocation, there are now new and easy ways of offering services such as domestic chore assistance, home delivery, and taxis among others.
Several other applications utilize GPS data. They include events applications, travel applications, e-commerce applications, dating services applications, lifestyle and hobbies applications, real-time knowledge applications, time-based and memory applications and much more.
Besides helping businesses deliver benefits to their clients at the appropriate time and place, the geolocation-based solution also helps brands interact better with their customers both online and offline.
Mobile app development company
that use geolocation solution to create apps often assure customers that their information is safe and secure. As more and more people continue to appreciate geolocation solution, it is obvious that this mobile feature is here to stay.
Back