The above topic is very important while developing and application which has to have a payment option for users. Now let us give you some brief idea about Payment Gateway and also how does it work for users.
A Payment Gateway is an Application service provider for e-commerce that authorizes credit card or debit card payments for purchasing from different e-commerce websites, online sellers etc., It is similar to the physical sale terminal available in all the retailer's outlets. "Payment Gateways" safeguards users' credit card or any other electronic payment details by concealing sensitive information such as credit card numbers. The whole purpose to use "Payment Gateways" is to ensure that Payment process between User and the merchant is smooth and safe, even the information passed securely between merchant and Payment processor. So if we want to conclude this, we can say that A Payment Gateway helps in the safe transaction of confidential information and payment between a payment portal and the Front End processor or any bank.
When a customer orders or purchases any product online from a "Payment Gateway- enabled Merchant" than the Payment Gateway performs variety of tasks to complete the process. It acts as a middleman between between the merchant's website or mobile app and the respective banks.
Flowchart of a Payment Gateway:
Now let's talk about some of the best Payment Gateway service providers in India. These gateways have been chosen on the basis of their market share, reputation of promoters and commission charges. Also note that this Payment Gateways are not any particular order. To survive in this competition, they keep on offer different discounts and revising their commission fees. It is always advisable to visit their websites and proceed further after checking their ongoing offers.

1) PayU India
PayU India is a subservient of a Global firm PayU. Ibibo has launched it in the year 2011. Naspers and the Chinese Internet portal named Tencent had co-owned it. The countries which is covered under PayU are South America, Hungary, Poland, Russia along with the so many Asian countries. It can process the payments of users via debit cards of more than 50 countries,, Visa, MasterCard and Diners credit cards. It also does online banking for some of the leading banks such as HDFC, ICICI, SBI and Axis Bank. Here is the rate list of PayU India.
a) Debit Card:
INR 2000 or less: PayU will take 0.75% as commission

More than INR 2000: PayU will take 1% as commission.
b) Credit cards, Online Banking or Multi Bank EMI
Upto INR 4,900: Commission is 3.90%

Upto INR 9,900: Commission is 3.25%

Upto INR 19,900: Commission is 2.90%

Upto INR 29,900: Commission is 2.50%
2) CCAvenue:
CCAvenue is the biggest payment gateway in India with more than 85% of e-commerce merchants in Indian online payment market. They offer a really huge number of payment options which are as below:
7 type of credit cards (MasterCard, Visa, JCB, eZeclick, Diners Club, American Express, Discover)

74+ Debit Cards (Visa/MasterCard/Maestro/Rupay)

50+ Net Banking

8 Prepaid Cards/wallets

8 Bank EMI

Amex eZeclick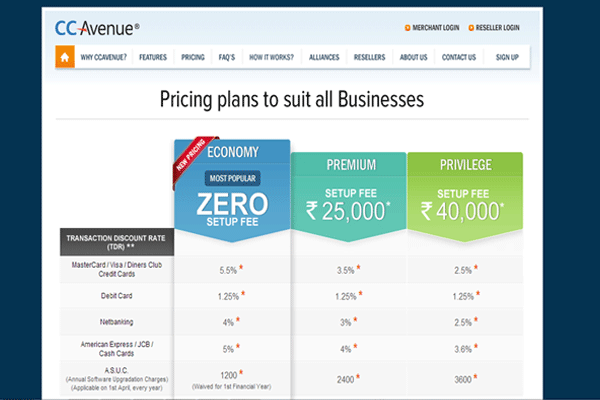 If you are planning to take your business on a International level than CCAvenue is the correct Payment Gateway for you. They permit you to accept payment in 27 Major currencies.
"Multilingual Check out page" is one of the unique features that CCAvenue offers. Major Indian Merchants do not know the importance of languages other than English but trust us, regional languages are highly important. People of India may not comfortable with the English and that time this feature called "Multilingual Checkout page" helps them to complete the transaction easily. They offer 18 major Indian and International languages to user interface.
Here are the commission rates of CCAvenue:
Popular Plan of CC Avenue:
Set up fee: INR 0

Annual Maintenance Fee: INR 1,200

MasterCard/ Visa/ Diners Club Credit Cards: CCAvenue will charge 3.5%

Debit Cards: 1.25% Commission

Net Banking: 4.0% Commission
As we can see, the rates of CCAvenue are much higher than other providers in the Industry but it guarantees to provide you the best payment gateway provider.
3) PayPal Payment Gateway: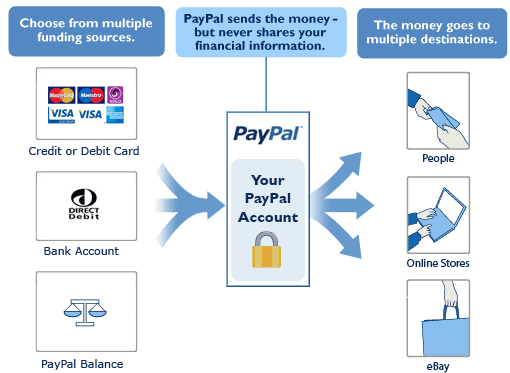 PayPal is one of the oldest Payment Gateway available in the market. It is not just any other Payment Gateway! When PayPal started, It was a factious idea of sending money through email. PayPal seems to be the best option for small online businesses. PayPal provides the most simple and inexpensive mode of doing business to whom who can not afford expensive Payment Gateway available in the market. Below are the some things for which you might use PayPal.
Send or receive payments for online transactions at eBay or Other websites.

Selling and Purchasing of goods and Services.

To receive and make donations.

Cash exchanging with someone.
You must have a PayPal account to receive the payment of anyone with the same email ID you use it to send the payment through PayPal. If you are selling any product or service online than PayPal can receive or make payments from your bank and it charges 4.4%+$0.30 USD commission for this.
4) Paytm: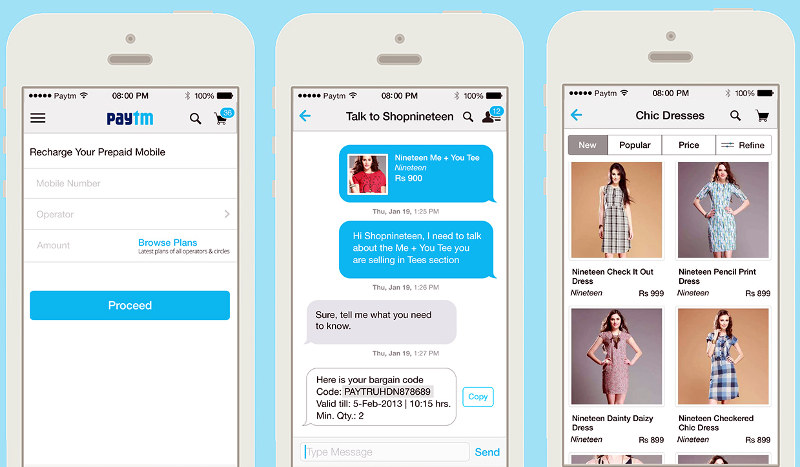 Paytm is believed to be India's largest mobile commerce platform. It started from mobile recharge and the payments of other utility bills and today it offers the huge marketplace for payments on each and every e-commerce website through it's mobile application. It has over 80 Million registered active users and in a very small span of a period it has measured more than 60 million orders per month.
India's leading mobile Internet company One97 has Paytm as its consumer brand. Paytm wallet has been launched in 2014 which is India's largest mobile payment service platform with more that 40 million wallets. Mr. Ratan Tata made personal Investment in Paytm and from then it has got a major boost as far as e-commerce payment gateway is concerned.
5) Braintree: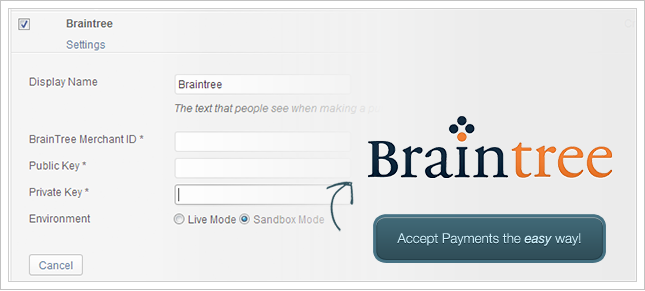 Braintree is an American Company which assists online business processes through credit card payments by giving a merchant account, payment gateway, credit card storage & recurring billing. In 2013 PayPal acquired Braintree. Braintree gives businesses with the capability of accepting online payments or within their mobile applications. It is modernized payment platform which changes the traditional way of sourcing a payment gateway account from various providers.
The charges per transaction is 2.9%+$0.30 of Braintree. There are so many countries covered under Braintree. North American region, Europe region, Asia and Australia region.
So these are some popular Payment Gateway which you can easily use for your online transactions. All the leading Mobile app development companies use one of these Payment Gateway. Hyperlink Infosystem uses the safest mode of making and receiving the payments to secure the clients' information. You all the confidential information is just safe while transacting with Hyperlink Infosystem. We provide the best Android app Development India and iPhone Application Development India which will give you the greater satisfaction as far as Mobile App Development India is Concern. Contact us for more information on Payment Gateway or Mobile application development on any platform.
Back