Beginners in app acquisition are stuck up with four questions : "How much does it cost to develop mobile app?", " what does cost depend upon ?" , " should i go with android or iOS development ? " , "If both which one should we begin with? " and browse the internet to find these answers . While surfing you might come across various web links that targeted to estimate app development cost, but they are nothing much than marketing strategy that tries to catch your attention. The estimates you acquire will not give you exactness in cost and will distract you.
In a nutshell, prices of an android app can differ from $ 10,000 - $ 50,000. Quite a huge gap, isn't it? Here we will try to examine the core drivers of android app development.
Choosing between android or iOS.... Which Way to go?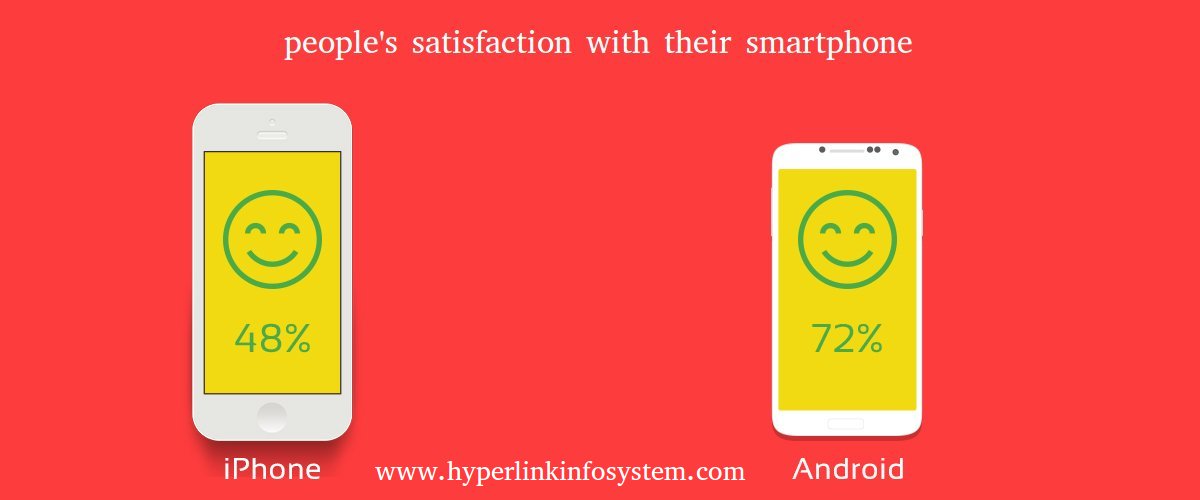 If you're commencing with one platform, it's quite usual that you're settling between Android and iOS. The two big labelled companies' holds account over 90% of the Mobile market industry.
Though Apple Users provide consistent user Experience, Android currently covers 85% of the mobile market and that's a huge market coverage leveraging reach to maximum people than apple.
Why should i build an Android app?
If your targeted market is Asia, South America or Africa then, android is one of the best profit to be gained.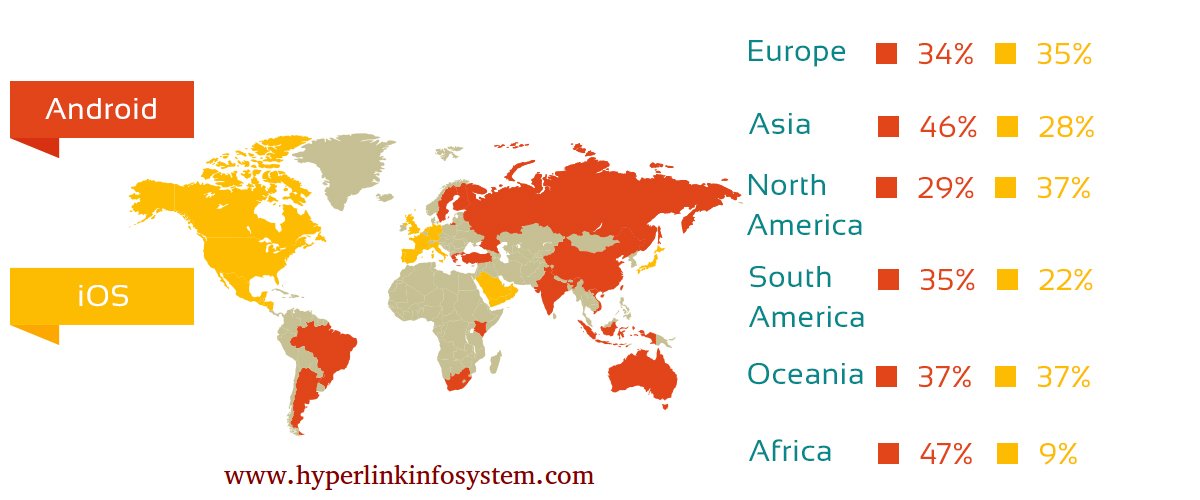 Though Apple keep seated its focus more on Creaminess Smartphone market and Consumers with high ranged income, android is intending for huge adoption. As compared to apple android has larger market as compared to Apple iOS in the mobile developing industry.
Platform v/s Custom App Development
Custom or tailored app development helps you to create unique as well creative designs according to the client requirement while Mobile app development approach helps you to create cross-platform apps easily while having ability to make easy and quick changes at later parts.
If you have noticed the total cost of developing a customized app is much higher as compared to developing an app using MADP features. However, creation of exceptional UI and features are found to be one of the biggest challenges when you opt to go with MADP module. Also the Source code will not be provided to you. So if you want to make your app simple with minimum UI without having urge to own source code then the MADP can save you from huge expenses, Else if you want to go with complex app making something innovative and new then custom approach would be the best solution.
Well, it's great for you but, how much does it cost?
Even "simple apps" makes your project a six digit figure. Apps that require back-end management like User Account management, Payment management cost significant more. However cost of an app depends on various factors and criteria and some of them are listed below:
1) What kind of app do you want to build?
i) Database app: Any application entied with database will be reliant on data that leverages users to perform searches, input some data and process the same results. As it required good programming skills it has bigger budget. Price: $ 10,000 - $ 50,000.
ii) Simple: It includes simple app with basic features and minimum UI.
Price: $ 2000 - $ 7000.
iii) On-demand Apps: The cost factor depends on complexity level of the app. High level complexity increases the overall budgets.
Price: $ 20,000 - $1, 00,000.
2) Development Team:
The Development Team consist of:
i) Project Manager
ii) UI/ UX designer
iii) Graphic designer
iv) 1-2 developers
v) Back end Developer
vi) Testing & QA team
This is the basic team for any app development. Team size may vary as per the project complexity. You can also off-shore your project and can hire development team based on hourly or monthly charges.
3) What type of App you Approach?
Cost of an android app also depends on type of app developed like:
i) Social App: includes Database and basic or advanced features.
Cost: $5000 - $20,000.
ii) E-commerce: A total m-shopping experience app with advanced features like payment integration, Add to cart, Scanning of code etc.
Cost: $ 10,000 - $ 50,000.
iii) Transportation: It includes taxi based, logistic app end much more.
Cost: $ 15000 - $ 1, 00,000.
iv) On-demand Apps : Nowadays on-demand apps has stayed long in trend to fulfil common people daily needs by just a single click from mobile. The cost depends on the complexity of app and further on the requirements of app.
Cost: $40-50,000 - $ 2, 50,000.
Our Development method Approach for Android App development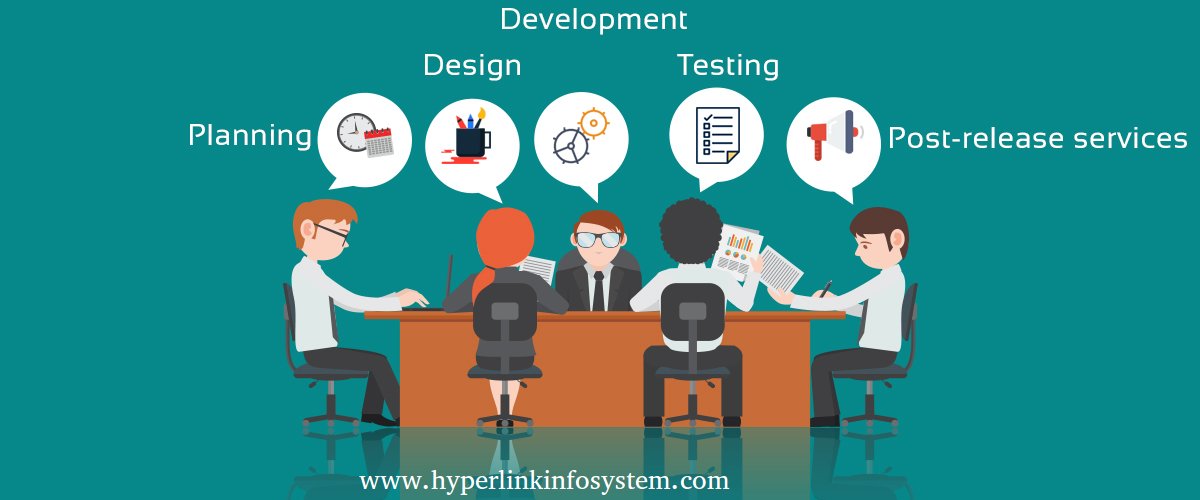 How do you Figure Out the factors that you need to take into account to arrive at an Android app cost?
1) Features: There are numerous features that can be included like Signup, Registration, Language Selection, Search, Bar-code Scan, Add -to-cart, chat, Push Notification etc. As feature surpasses basic category price of an app increases as per feature inclusion.
2) Testing: Testing an app developed in android is quite a tough and time consuming job. As there is various fusions of size, Screen, Os and its versions it becomes difficult for testers to test android device on every screen and, due to such complexity cost of testing and QA increases.
3) Server and maintenance.
4) Social Media integration.
5) Cloud data maintenance.
6) Ability to sync data of app across multiple mobile device.
7) Integration with multiple websites.
8) Application tracking and analysis.
What after App development?
Cost of an app is not just merely about development, it is about getting an app approach outside the development rooms. Cost of an app is not just development focused but, it also focuses on marketing and User purchase factors like Deployment of App, in-app purchasing, app store optimization , updating app with newer updates and so on.
Want to develop an android app?
Having some good app idea is not a difficult job, finding someone to turn your ideas into worth using app is indeed something challenging. Hope that these above factors will help you out to find the best and befitting android app developer .If you have any know-hows regarding the epithet do share with us to explore more. Till then, stay connected with us! Happy development!