Apple reveals after months of rumors and speculation, a huge device "iPad Pro" for professionals which is bigger and more powerful than any other Apple device. Some people feel that it looks like a bigger iPad Air in many ways. It is a larger version of their traditional iPad. This iPad Pro has come up with it's secret weapon- "An Apple Pencil". Well, Yes you heard it right. It is a Stylus which is called "One of the most advanced technologies they have ever created". Really? Not everyone can believe this though. This is a straight contradiction of the Late Apple CEO, Steve Jobs, who once said about a "Stylus" that "If you see a Stylus, they blew it".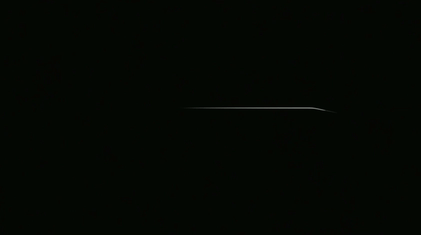 Keeping all the general rebuff about the pencil aside, a stylus is a much more specific input device which makes a lot of sense to a graphic designer, a photo editors and many other content creators for a larger level of creativity and innovation. This device can also replace your Wacom Tablet. Position, tilt and force is surely detected by the pencil. A lightning connector feature can help you to charge it with your iPad while you are not using it. App Developers will surely take the advantage of it in App Development.
There may be moments when you will need better and bigger accuracy while using iPad Pro. So Apple diligently designed Apple Pencil to explore on the versatility of Multi- Touch. Apple Pencil is one of the most powerful technology Apple has ever engineered. It might be used for future iPhone App Development too. It lets you create number of effects, right down to an individual pixel and giving you more creative freedom than ever before.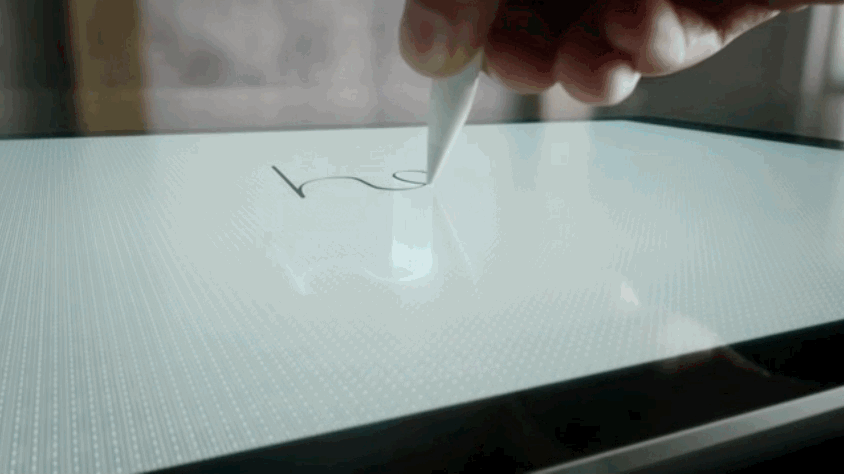 You hold Apple Pencil but it will not hold you back
Yes indeed! You might not have seen Apple Pencil before. It does everything what you expect of course but once you started using it, it will give you much more that you just expect. Whether you are sketching sitting in a park, painting your own watercolor portrait or outlining a blueprint, Apple Pencil provides a number of tools in a single and smart instrument. Get your own Apple Pencil and erase all the barriers between you and your creativity. Iphone App Development India surely needs this kind of powerful weapon for more effectiveness in each area.
Highly Responsive and Nearly no Dawdle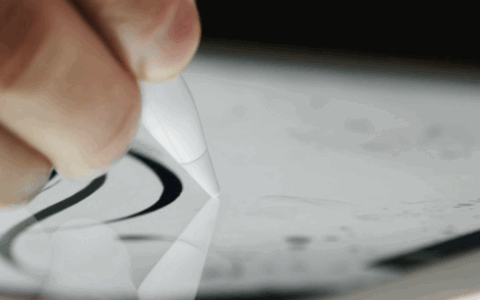 The lightning fast responsiveness makes the Apple Pencil class apart from the other creative tools. The latency- a small delay between you start drawing and the time it get appears on the screen, has been reduced so effectively. Ipad Pro has been designed in a way that it can sense whether you are using Apple Pencil or your own finger. When you use Apple Pencil, the iPad's subsystem scans its signal at an astonishing 240 times per second. Isn't this just amazing? Ipad Pro gives you twice the data points it generally gathers with your finger when you use Apple Pencil. So you can get the images in some milliseconds as the data have been combined with the Apple designed software.
Draw lines of any weight and size
Within its slim case, there are complex yet accurate sensors have been fit which are capable of measuring the force and pressure. The pencil will draw lines accordingly the pressure you give on it. Press harder when you want thicker lines and a gentle touch is just enough wispy hairlines. The diversity of creative effects is just limitless.
Shading through Apple Pencil is just a tilt away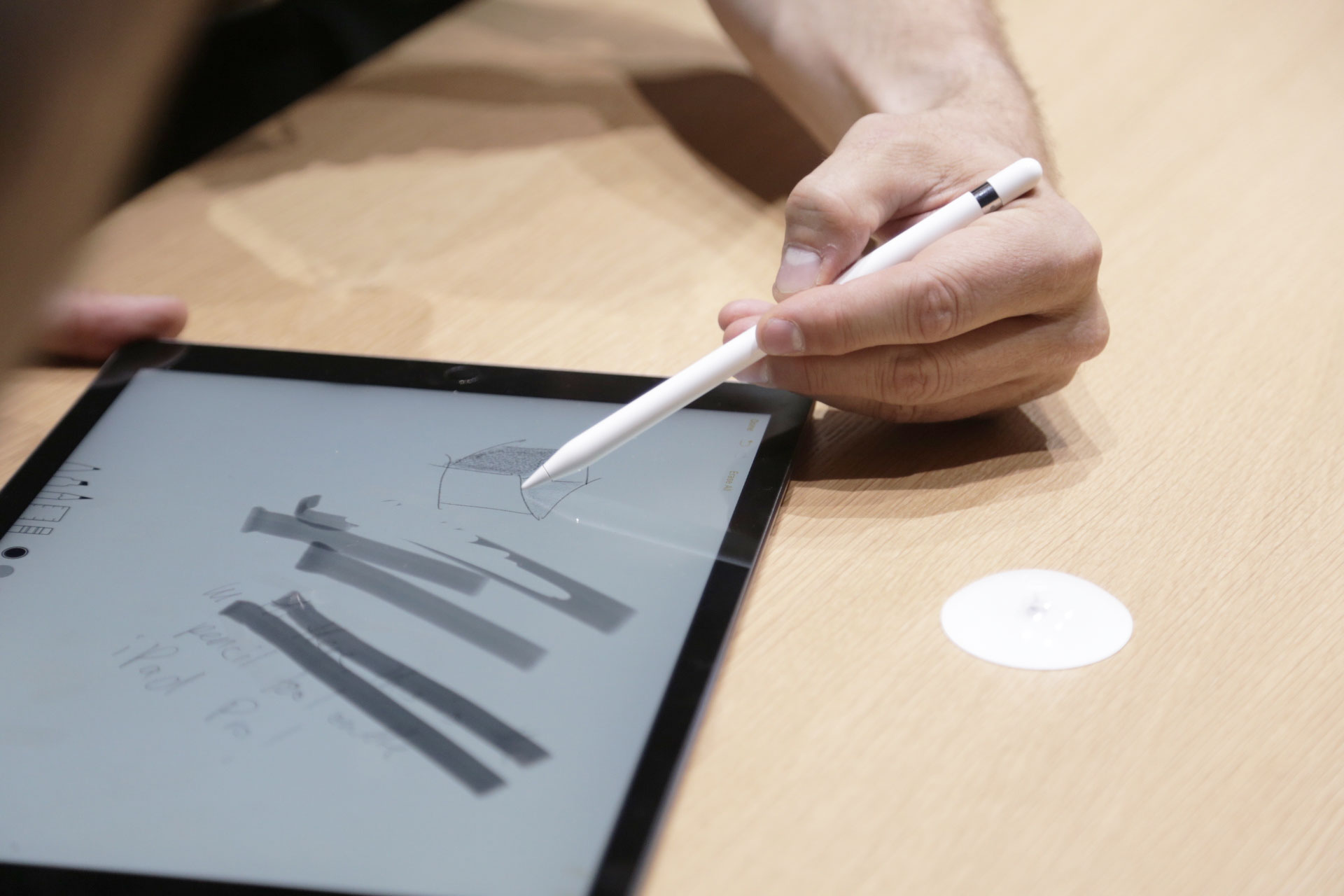 Two tilt sensors have been placed within the tip of Apple Pencil which calculate the literal orientation and the angle of your hand. So when you normally write or draw, the respective positions of each of these sensors can be identified by the Multi-Touch display. You can create various designs and effects just by tilting your pencil.
Keep on Supplying your creative Charge, Very effective battery life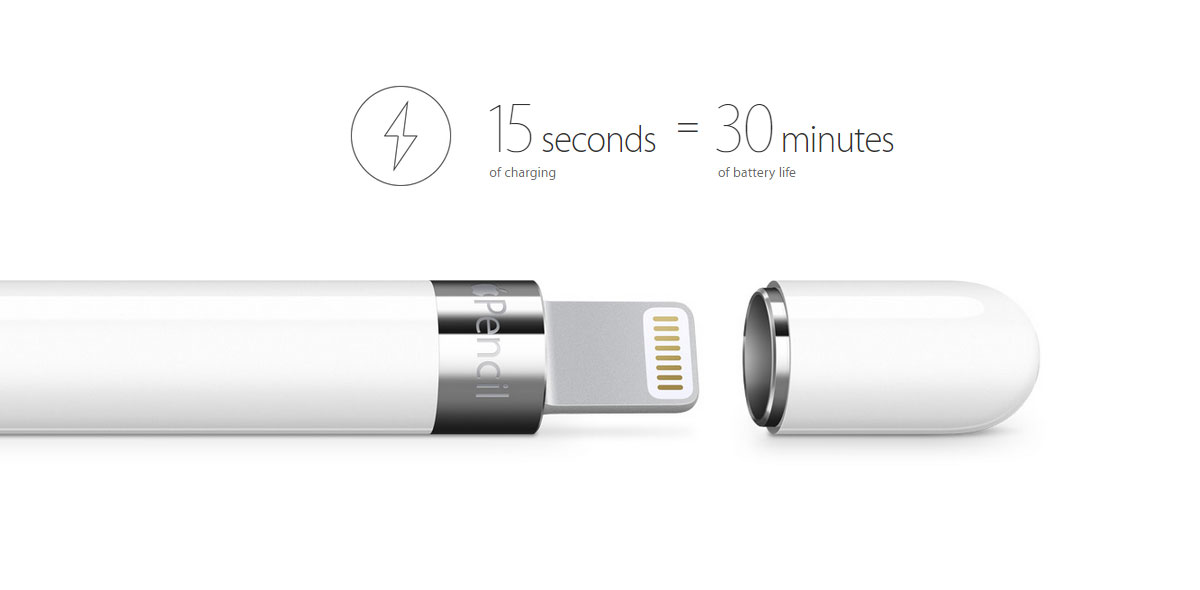 Slip off the magnetic top of Apple pencil to see the lightning connector that lets you charge your apple pencil by simply connecting to your iPad Pro. The connector is designed a slightly more elongated so that you can charge your Pencil even if your iPad Pro is in its case. Are you in a Rush and your Apple Pencil is not charged? Not to worry, A Fifteen Minutes' charge lets you to use Apple Pencil for half an hour. And a full charge will take 12 hours of worth charging to draw, sketch, edit and much more.
Bring a creative life to your Apps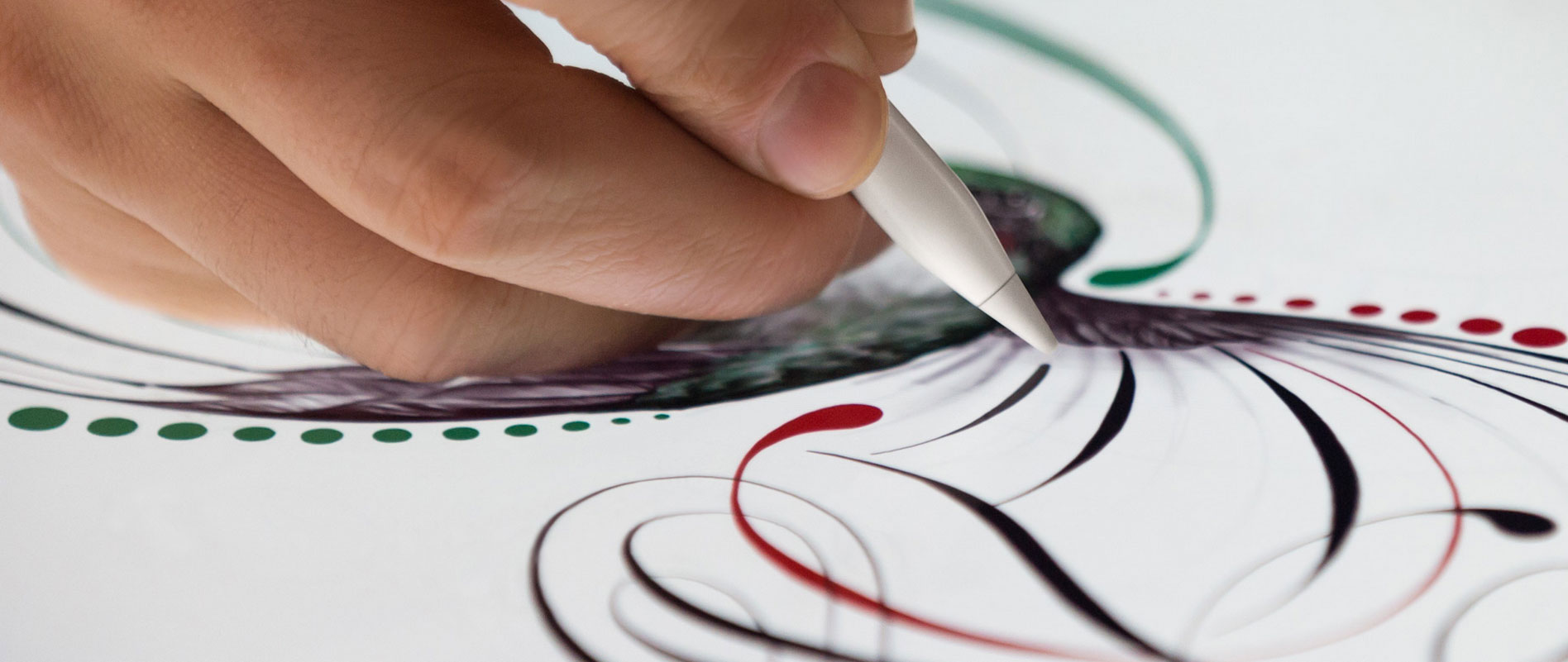 While using iOS 9 and building different applications, usage of this Apple Pencil will take your ideas to another level. Apple Pencil will also work with different iPad Apps from Apple Store. Find and create the whole new dimension, creativity and Productivity with iPad Pro and its secret weapon "Apple Pencil". This pencil will going to cost you $99 and it will out in November, 2015.
So Apple has come up with the iPad Pro, Apple Pencil and A new smart Keyboard. For more information on Any new product and Apple App Development, Contact Hyperlink Infosystem. We are pretty much expert in iPhone Application Development India and other platforms too.
Back