There are different mobile apps now that mobile users can choose to use and install on their smartphones or mobile devices. These mobile apps have different features and functions. One particular and important feature of some mobile app is that it functions and operates like a medical device. The mobile medical devices are installed with a medical app which is used for health purposes that can help monitor vital signs of a patient as he undergoes physical fitness. These vital signs include blood pressure, heartbeat/ pulse beat and sugar. Knowing all of these vital signs can help you avoid or prevent any untoward incident of heart attack, stroke and other crucial illnesses.
There is also a medical app, which can monitor burned calories, which can help you check from time to time your calories if you're on diet and would like to lose weight.
Taking into consideration the health function of the medical device will somehow raise some questions and doubts whether the app developer should secure a license or an approval for the mobile app. This issue or question is sensible because what you're looking into, as you use the mobile app, is the health or medical condition of the user. This should also be taken into consideration by the app developer to develop an app which will not need the approval of the Food and Drug Administration.

Well, to erase some doubts, a research was conducted. It was then learned that not all smartphone and tablet apps for health purposes are controlled medical devices. Another important thing to note is that not all mobile apps that can qualify as a medical device should get a permit or certification with regards to its functionality based from the regulations and guidelines set by the US FDA or Food and Drug Administration.
In view of this, the FDA or the Food and Drug Administration have set a limit or boundary to its regulatory views to what it considers as "mobile medical apps" or the real medical devices. The problem here is the risk that the patient will have to undergo if the device fails to function or work the way it is made or designed.
The Food and Drug Administration has determined the mobile medical apps that they should inspect and examine. These mobile medical apps fall into three categories:
1) Those which transforms mobile platforms or turns an iPhone into an ECG or Electrocardiography machine.
2) Apps which is used as an accessory or add on to a regulated device. An example would be a tablet which displays X-ray coming from an FDA-approved picture archiving and communication system (PACS) which is used by radiologists.
3) A mobile medical app that can perform and diagnose a patient's specific health condition. These mobile medical apps can also diagnose or recommend treatment like radiation therapy
Knowing the three categories can help you identify whether or not your mobile app should need a permit or a license from the Food and Drug Administration.
Most of the healthcare mobile apps which do not belong to the three categories do not require FDA approval. The FDA has no intention to control and regulate smartphones and tablets as platforms for the healthcare apps.
As per the guidance set by the FDA there are many healthcare mobile apps which are excluded from the FDA scrutiny because they do not fit the FDA's definition of a medical device. These medical devices which should be scrutinized by the FDA includes machine or apparatus which can diagnose, prevent, cure, treat or mitigate illnesses or an apparatus which can affect the structure or function of the body aside from chemical action and metabolism. These particular apps include: Medical reference materials, Medical education tools like anatomy diagrams, general patient education and apps which program office operations like selecting a diagnostic or billing code.
On the other hand, there are also apps which can be considered as medical devices, but because they don't place the patient at risk the FDA do not require them to get medical approval. Some apps which falls under this category includes: Helps patient manage chronic conditions like diabetes, help the patients get their health information, compute body mass index, arterial pressure, APGAR scores and other clinical readings or vital signs. He said apps also enable the patient and the provider to act together with the electronic health record (EHR) system.
To further identify the mobile apps which need the Food and Drug Administration approval, the FDA issued the final guidance for the development of mobile medical applications last September 21. The FDA stated that they will also have some discretion in enforcing or implementing strict scrutiny of some apps because it can give minimal risk to the consumers. The Food and Drugs Administration present guidelines points out that most of the medical apps can either be:
Non-medical devices defined by the Food, Drug, and Cosmetic Act (FD &C)

An app which is defined as a medical device which can only give a lower risk to the patient.

Those apps which, if ever defined as a medical device will only pose a low risk level, which will just be enough to prevent enforcing FD and C requirements.
The app developer should also be familiar with the subset of mobile apps that can be very risky to the patients if it does not function the way it was intended to be. The agency continues to inspire or boost innovation in medical mobile app development. This holds true to mobile apps that:
Are meant to be used as an add on to a regulated medical device which enables health care professionals to give a particular diagnosis by looking at the medical images from a specific apps which operates on the smartphone or a mobile tablet.

Modify or change a mobile platform into a controlled medical device. Example of this application could be an application which turns the smartphone into an ECG or an electrocardiograph machine to track and monitor heart beats.
The FDA is really trying their best to place everything in control and to monitor the mobile medical apps that should really be given a thorough examination as it poses a greater risk to the patient. This particular mobile medical app will threaten the health and medical condition of the patient if the app stops to function or if it does not function the way the app developer would want it to be.
As an app developer, a wider knowledge and familiarity of the different apps which can be subjected to the thorough investigation and scrutiny of the Food and Drug Administration can help him develop a medical app which should not be required to get the approval of the FDA.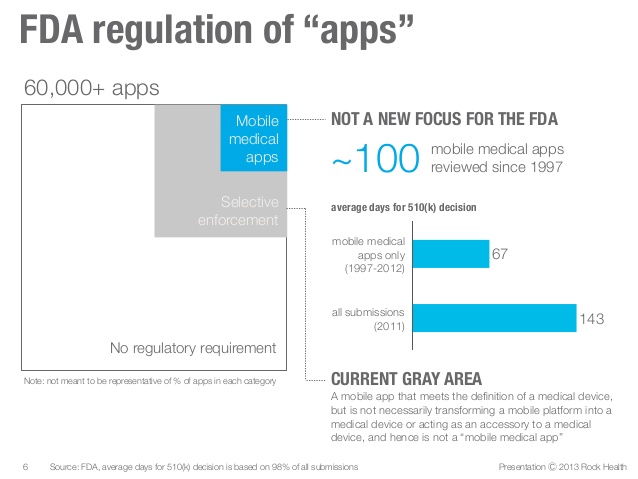 A mobile medical app is one of the most important apps that a developer can develop and the user should install on his mobile device. This particular app can help you stay fit and maintain good health because as you jog or perform exercises you can check once in a while your medical device for any unusual changes of your vital signs as you exercise. The medical app can also help you get organized. It can also encourage you to move on and continue your physical fitness activities to stay fit all the time.
Eating is one of the hardest things to control, especially when your favorite food is right in front of you. To give yourself a little consolation, you can have a bite or a taste of your favorite food without worrying that you'll be sticking out of your diet plan and your strict compliance of the caloric intake. You can use your mobile app to check on how much calories you have consumed. You will also be able to determine how much calories you should burn after taking a bite or nourishing yourself with a hearty meal.
Checking and keeping track of your heart beat and blood pressure will spare you from worrying that you might have a heart attack or get stroke as you exercise and even rest after working out.
A reliable medical app is an important "must have" that you should install in your smartphones. This medical app should be developed by a skilled and reliable app developer to give you an assurance that your medical app can give accurate results. This will then ensure you that you're safe and physically fit to continue your daily regimen.
The Food and Drug Administration is taking a careful approach to the innovative technology, which keeps on growing and expanding to see to it that the apps users or the patients will always be safe. The Food and Drug Administration might even see it reasonable to regulate technology that might place the patients' health or medical condition at risk. They see to it that the apps are used properly and will not threaten the life of the patient. That way the FDA will not resort to regulate the production and sales of the smartphones and tablets. Contact Hyperlink Infosystem for best Android Application Development India & iPhone Application Development India and get your free quotes now.
Back