Windows application Development are still in the race of app market though the pace is quite slow but we are sure it will remain in the market, grow and increase it's users day by day. Well, this article is to educate you on how to upload your windows application on Windows Store. The whole process is quite simple but we are trying to give you everything you want in just one single article. So let's start with the process step by step:
Step: 1
The person/Company who is uploading the Application will be needing a Windows/Microsoft Developer account. You need to register yourself or your company as an App Developer. Sign up to a developer account is very simple and smooth. Please refer the below link to register as an app developer and to move further to upload an application.
https://dev.windows.com/en-US/programs/join
A developer account allows you to submit free or paid apps for all windows phones and devices to the Windows Store. So you just need to follow all the instructions given in this link page.
Charge to get the Developers Account:
# Charge to own an Individual account is 19 USD
# Charge to own a Company's account is 99 USD
# for both the exact amount varies depending on your country or region
Please refer the reference link below:
ref link : https://msdn.microsoft.com/en-us/library/windows/apps/jj863494.aspx
Step: 2
After opening a Developer's account you will see a Tab "Create a new app" near the top of the screen. Click on the same and you will get a screen below.

As you can see in the above image, here you need to reserve your app name which should be unique. If the name already exists, it will not allow you to go further from that screen. After entering a unique app name you can press the button "Reserve App Name".
Step: 3
Submit your package via Submission tab which appear on the left side of the screen. You need to drag and drop your file in the mentioned format. Refer the below image for better visual understanding.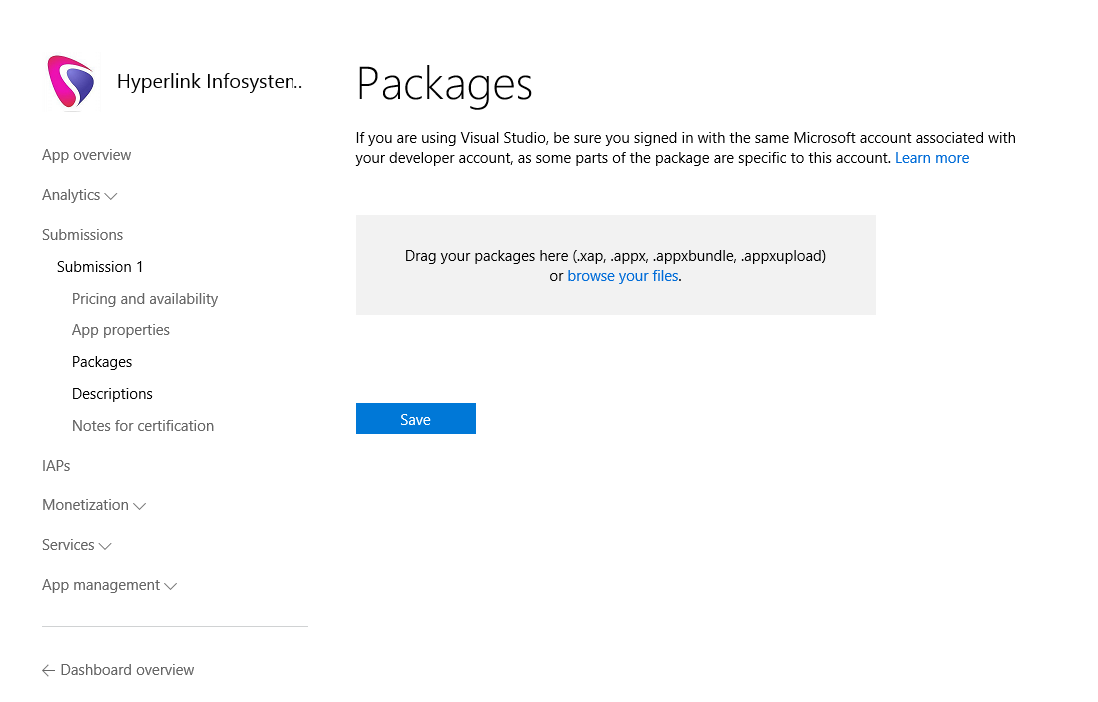 After submitting your package you can now go further to another steps of the process which needs more details about your Application.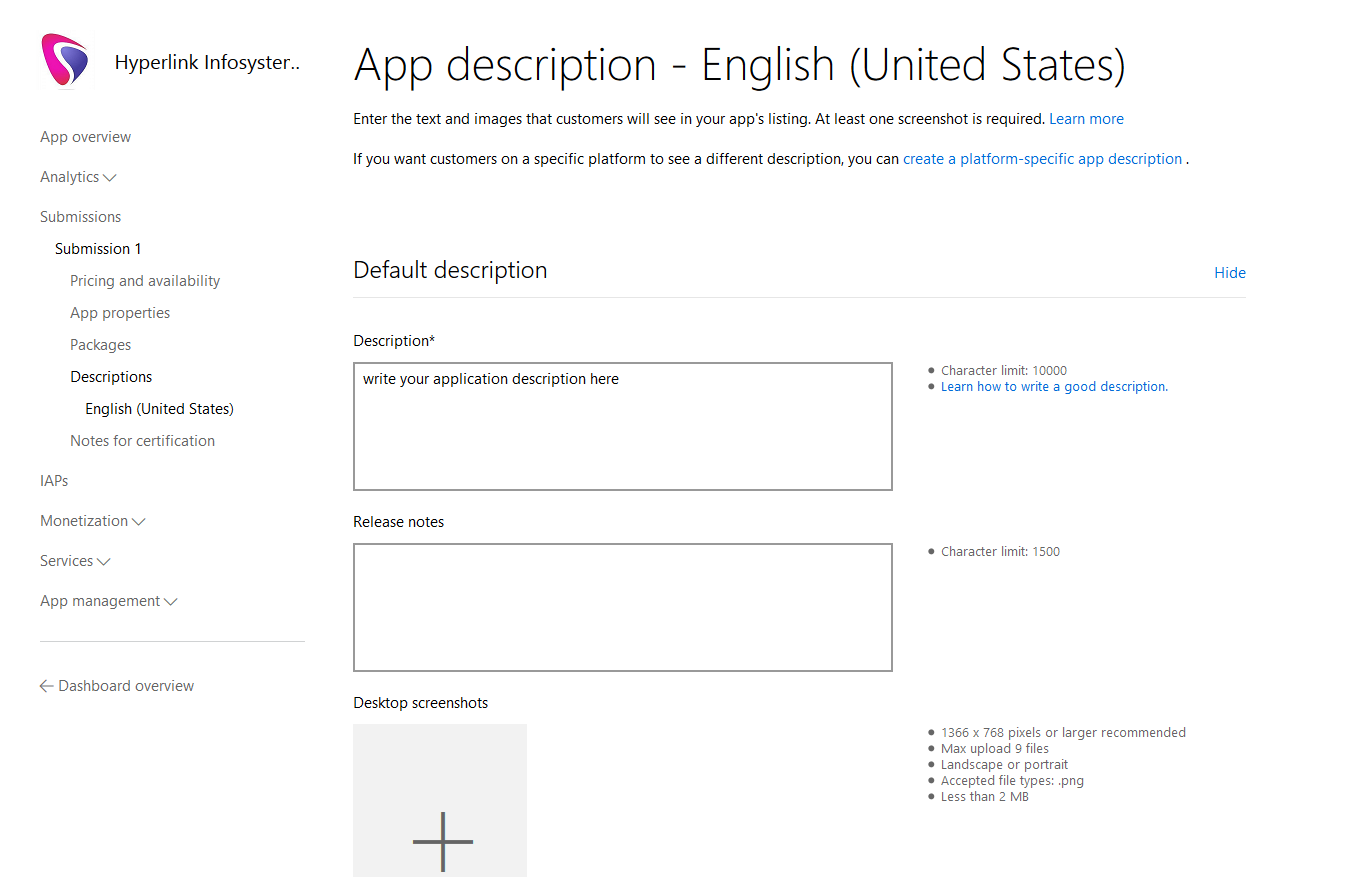 Here in the above image, the description of your application Screenshots and detail about your app version needs to be added.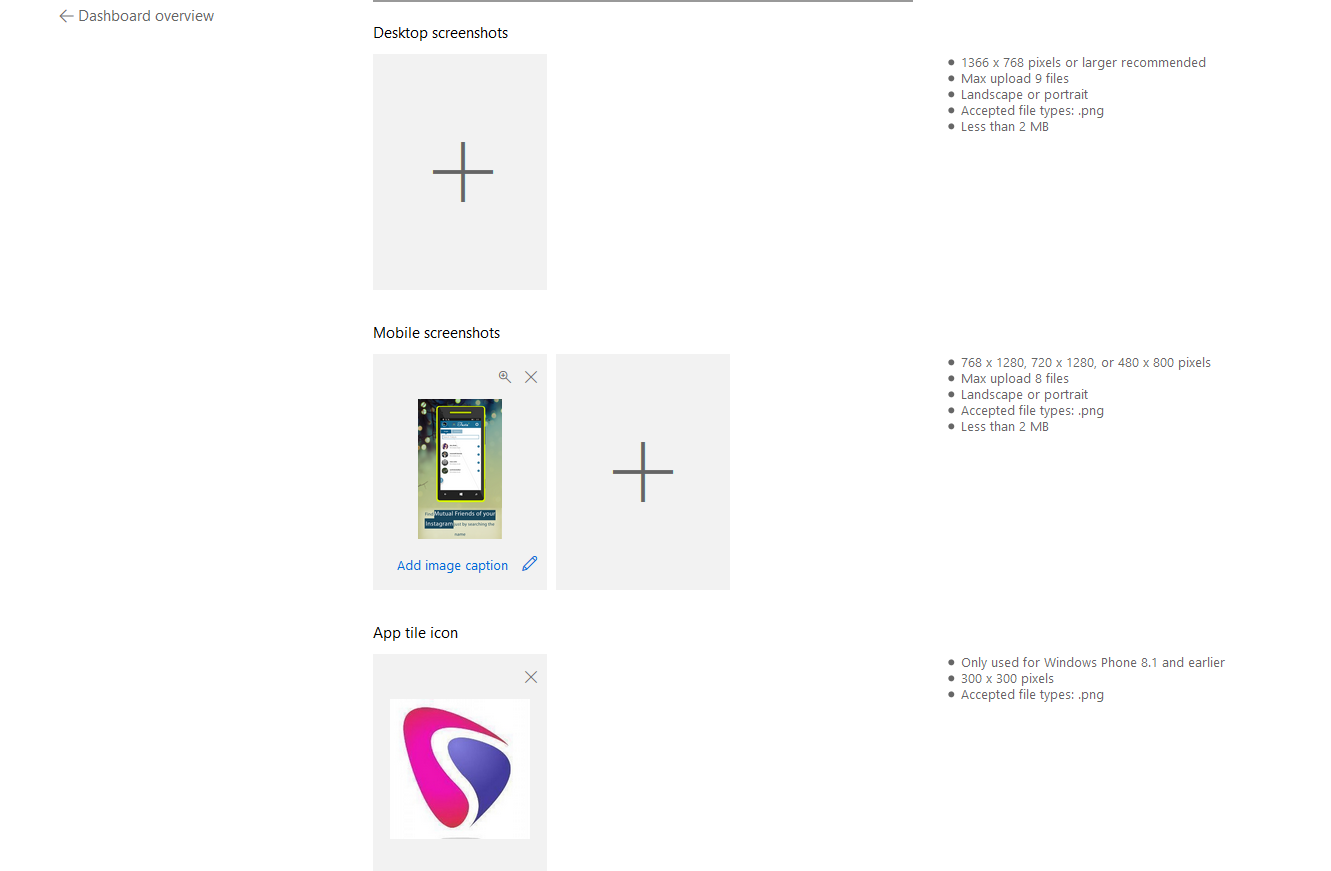 The above image will guide you to upload all kind of screen shots of your application including your app icon. The field with the star mark is mandatory "*". Also follow the instructions written in the right hand side of each field.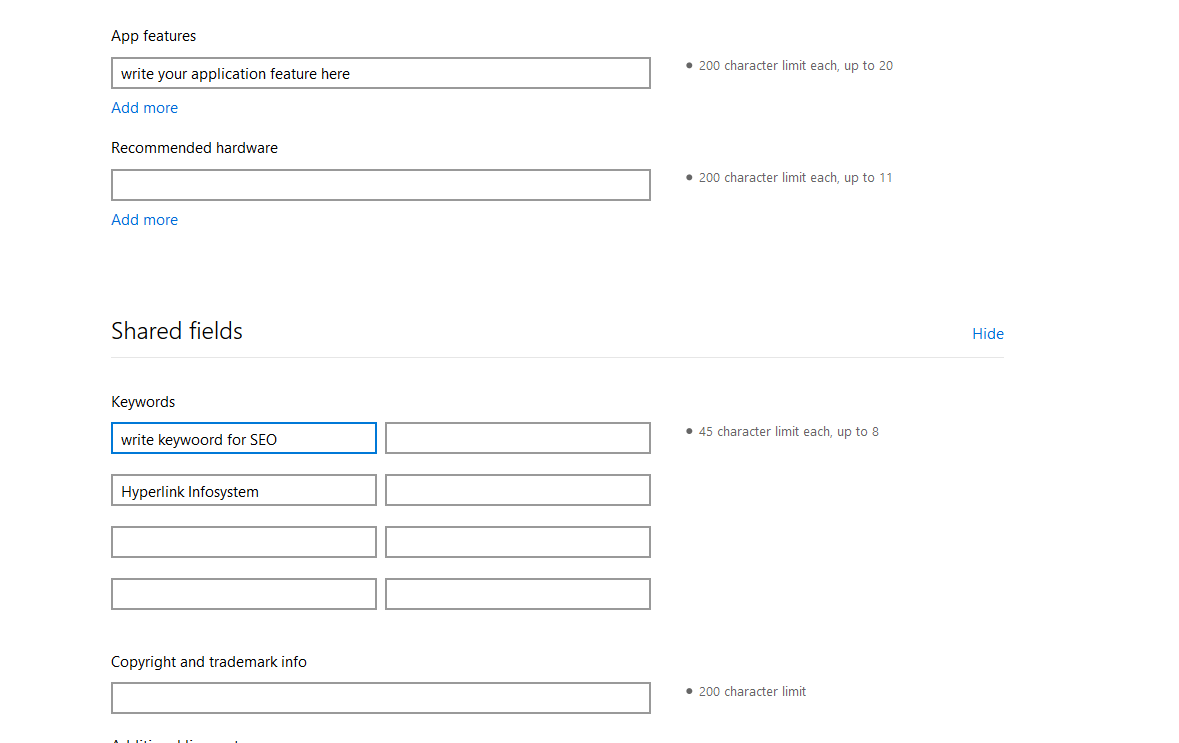 Above image demands the details of your app features, recommended hardware which means any extra hardware or accessory needed to operate your application, Keywords to help your SEO. Very useful and important fields to give proper information about your app.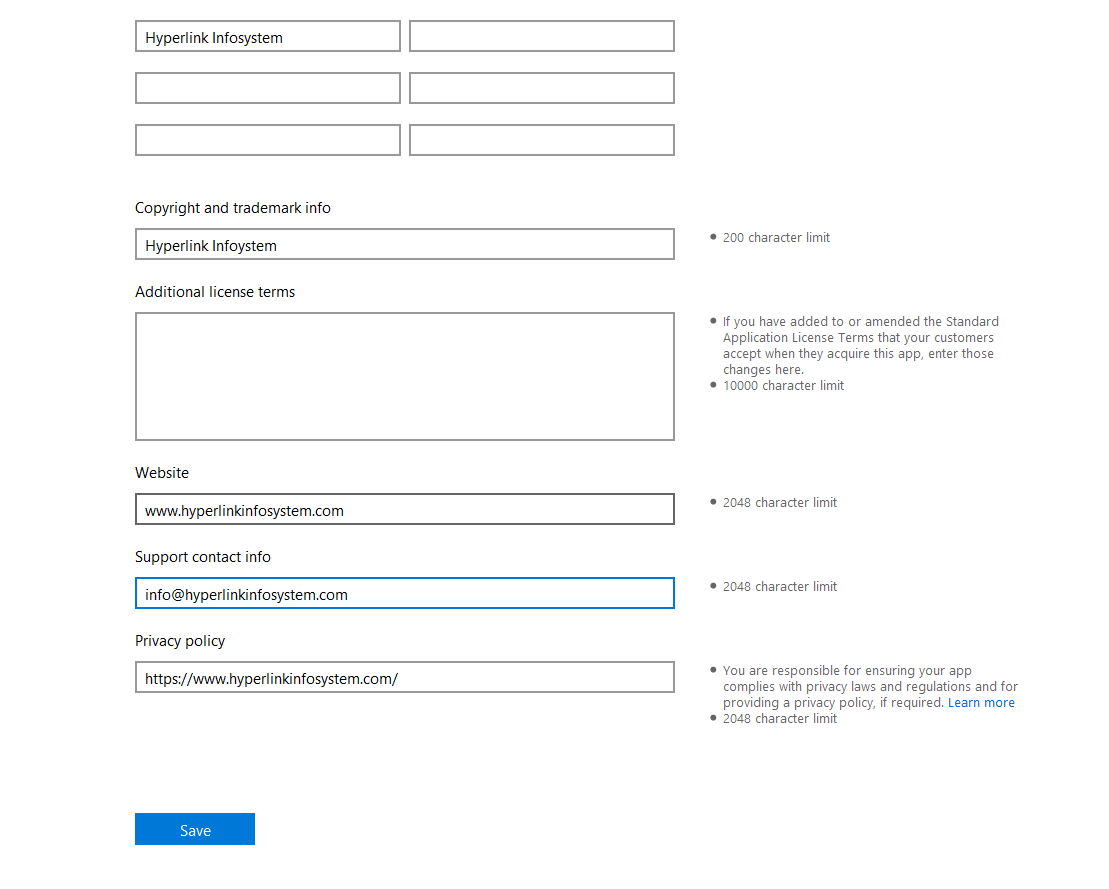 Above image shows that you need to include all the contact details which can be useful for the further communication between app store and the company. If you have any policy or license information you can also add them to clarify the things more.
All the above images will guide you to fulfill other requirements by Microsoft to submit and upload your app on Windows Store. Now you need to submit your package details.
Step: 4
Now after submitting your package details, the next step is to assign package detail in visual studio when you create package. Have a look at the below image which will give you a better idea to follow the step.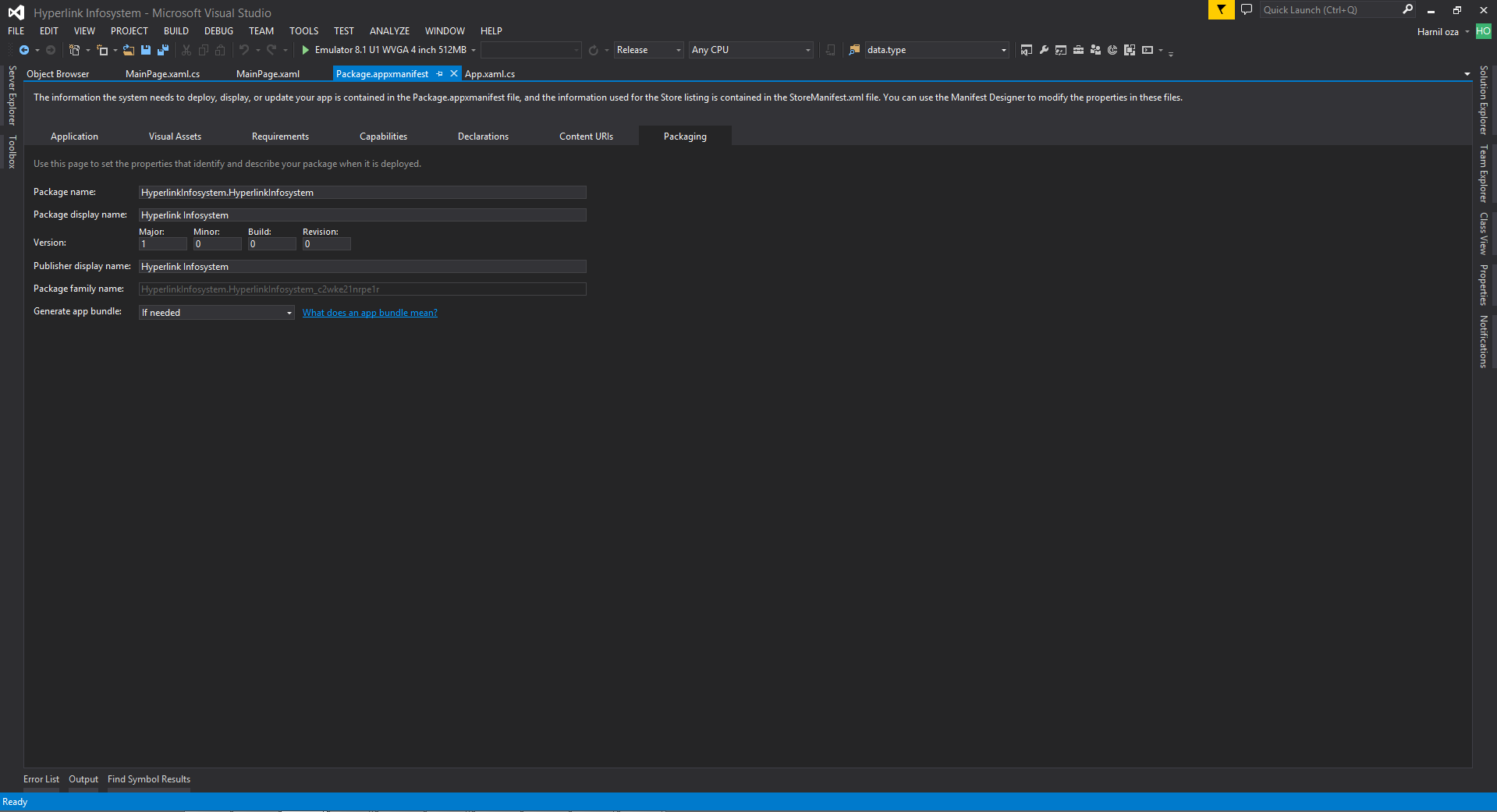 Step: 5
Well, now you are only one step far from uploading your application. Final step of the process is to set the price and availability of your your app in the market. Have glance of the final step in the following image.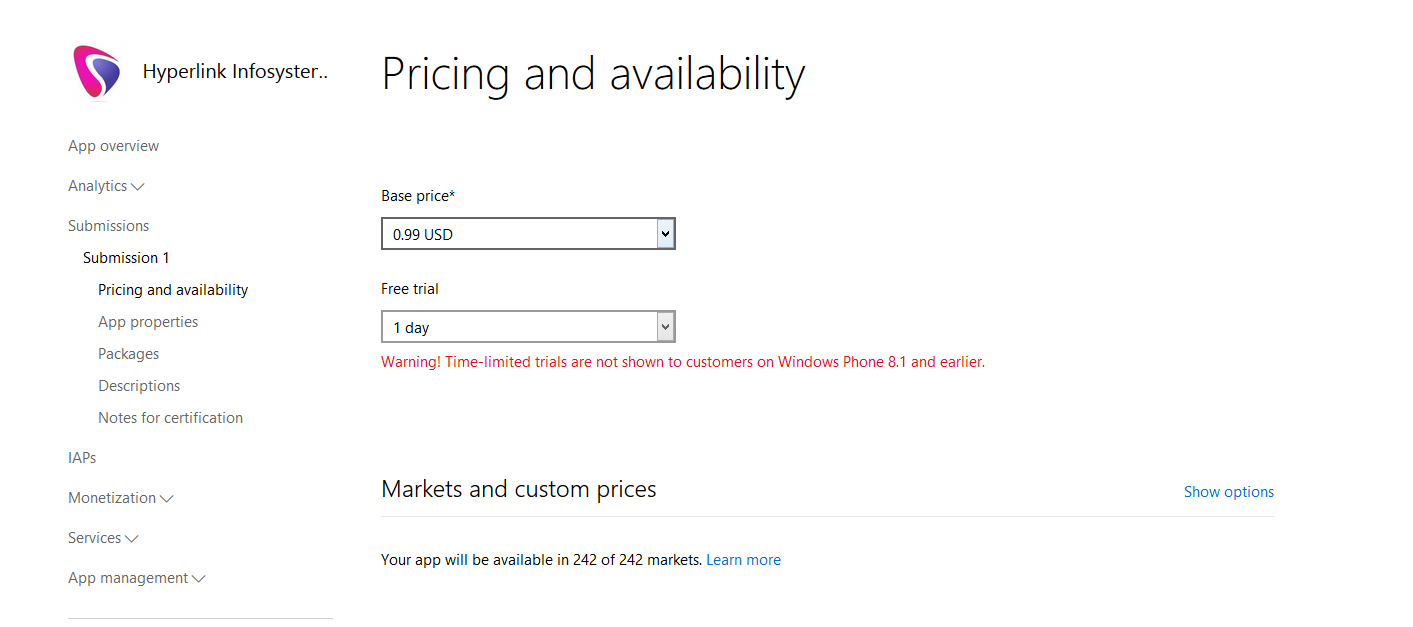 The above image shows how to define price for your app and for how much time it will be free for the users. That is also called "Free trials" which means you can set the number of days for your Application and for those days your app will be on free trial for your app users. You can see the same visually in the below image.
Above image also shows that your App can be available in 242 markets maximum. You can also set your available market manually.
So these are the steps of the whole process of uploading your application on Windows Store. We hope that by following these easy steps you will be able to upload your app without any hassle. Hyperlink Infosystem has till now built and uploaded 100+ windows applications since it's inception which is very rare for a growing company. If you are collaborating with Hyperlink Infosystem than all you will get is the best Windows app Development India. Contact us if you have any query in above steps or any other query. We are here to help you.
Back