Android is just Everywhere. It is in your pocket, on your wrist, on your eyes, in your kitchen even in your living room. "Just Everywhere". And now guess where it can be? Well, Now Android is in your car too. You want to know how? With the announcement of "Android Auto" it will be now your car companion. Android Auto is a Map Projection standard which develops for your smartphone and car by Google to permit your mobile devices running the Lollipop and later version of Android Operation System to be directed and operated in automobiles via Dashboard Head Unit. To enjoy this wonderful technology, your car and phone both should be accordant with Android Auto.
Android Auto is pretty simple. You just need to plug your phone into a head unit which is a compatible receiver to help you with the displaying and using this amazing Android Auto. So after attaching your phone with the head unit, you can get all the apps displayed on the screen in your car. When you first time connect your phone, you will get few warnings and disclaimers. The only moto to launch Android Auto is keep you safe while you are driving your car. All the other activities which you do it while driving using your phone can be dome remotely. One interesting functionality about Android Auto is that it forces the Bluetooth connection as soon as you plug in your phone so you do not have to set anything up manually, you can directly make calls. As we said you can do multiple things with the help of Android Auto while driving, some of the functions are mentioned below.
1) GPS Navigation/mapping
2) Google Play Music/Internet Radio
3) Telephony
4) Web search
Google Now & the Overview Screen: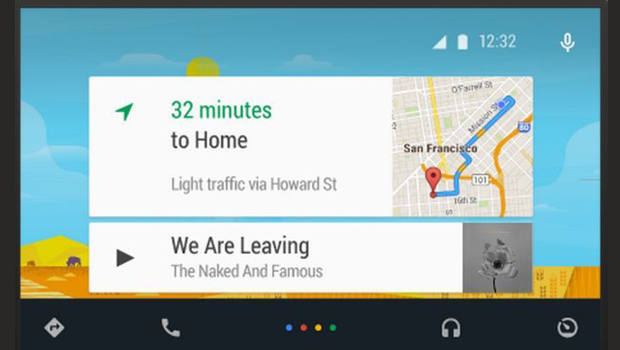 Google Now is very popular and well known tech which is used everywhere now a days. It is also presented in Android Auto as an "Overview Screen". As the name suggest, it gives you the whole display of your phone and notification on a screen in your car. The most frequent information you would see is about your current location and the path or other details regarding the place you want to go from your current location and they are damn convenient as a driver's perspective. It is indeed very great way to get directions on the screen in front of your eyes while you are driving. Parallel you can also get the notifications regarding your messages and phone calls etc.,
The combo of Google Maps and Android Auto: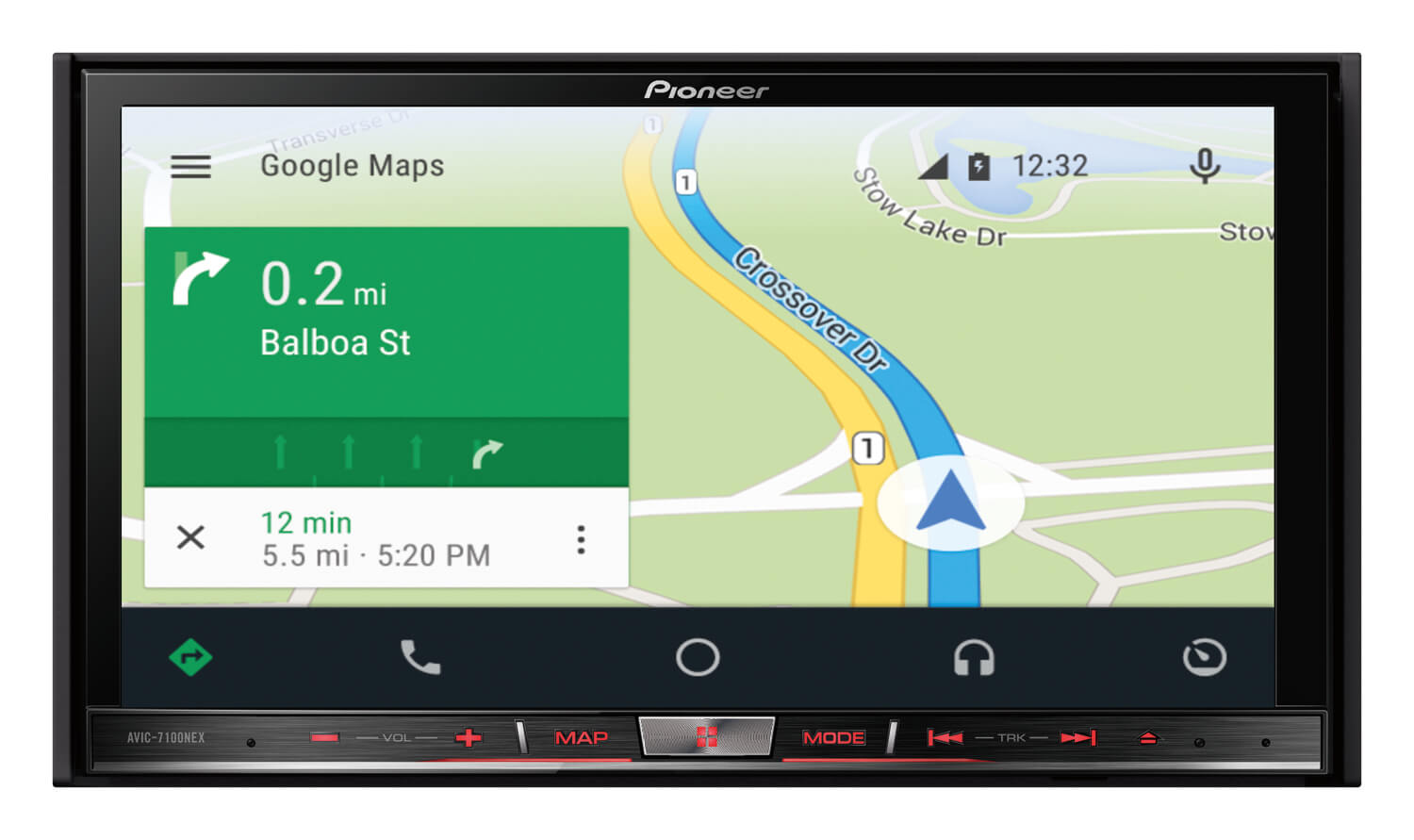 Google Maps is you are going to get with Android Auto as so much expected. It is probably not the only mapping services available in your car but it is sure the one you always want to use and that is going to served by Android Auto. Google has hit an incredible balance between glanceable display of information and usability. You can anytime find and initiate the navigation with the help of your voice, through the Overview Screen or the menu system. Google Map can anytime provide the up to date information and it is a pleasure when you look at it all information on your car screen. It feels amazing when these much comfort and ease is provided while driving.
With the help of Android Auto and Google Maps you can know that which lane is coming when you are in the middle of a 6 lane road. It will guide and tell you that how much time will it take to reach to your preferable destination if you do not take a suggested turn. You will also get the real time traffic updates. Yes you must wonder nothing new in this but it is always in front of your eyes and you do not have to pay much attention to it. So it gives you none another than Google Maps which is best in best.
An ease to calls and messaging with Android Auto: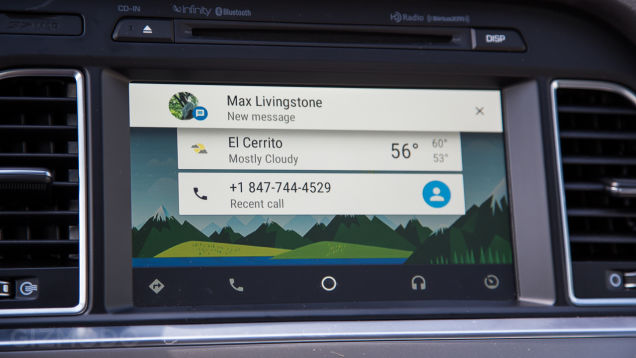 Android Auto comes with a Moto of making you a safer driver, so it helps you every way possible to making you the same specially it comes to making calls and texting. If you have never experienced the Bluetooth built in your car before, this will change your life. You do not need to hold your phone and stare on the screen, you can easily look up and dial any number using your voice. Even if you want to use the touchprints than you easily do it as it is quite big easy to access. Another fascinating feature is when you receive any text, you will get a notification on top of the screen. You just have to tap that messaging notification and it will be read out load, you not have to read them with your eyes on to it. You can also reply with your voice.
Again, this feature will fulfill the moto to keep your eyes on the road. Android Auto does it pretty well till now.
Google Play Music and Android Auto: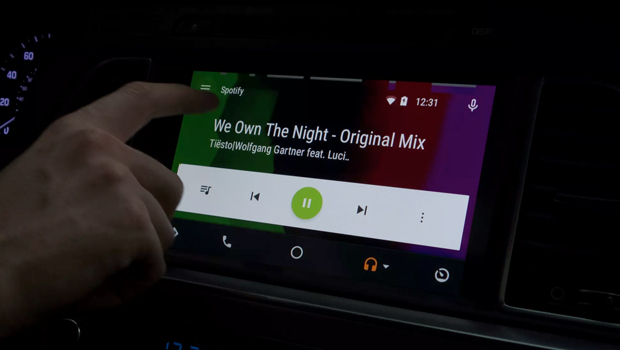 Google Play Music is what you get unsurprisingly with Android Auto. That will play play any song which you have stored on your phone's music. This feature is not as perfect as it has to be because user's will miss the capability and need to browse artists and albums.
If you are not a fan of Google Play Music than Android Auto has something else in stores too. So to take care of your podcasting You have got iHeart Radio, Spotify, BeyondPod, Stitcher and TuneIn Radio. We must thank Google that it has built every app in way to give you the same feel. Android Auto will give a comfort to listen music while driving. The music will automatically get paused if you receive any call or message.
Car Hardware Support:
A driver's mobile will have access to many of the automobile's inputs and sensors with the help of Android Auto such as:
| | |
| --- | --- |
| Car Hardware | Available to Mobile phone |
| Compass | Yes |
| Car Data | Under Development |
| Wheel Speed | Yes |
| Sound System | Yes |
| Directional Speakers | Yes |
| Directional Microphones | Yes |
| High quality GPS antennas | Yes |
| Mobile antennas | Yes |
There are very few cars and aftermarket unit are available for Android Auto. You must have the same car, aftermarket unit and the phone which supports Android Auto.
Android Auto App Development: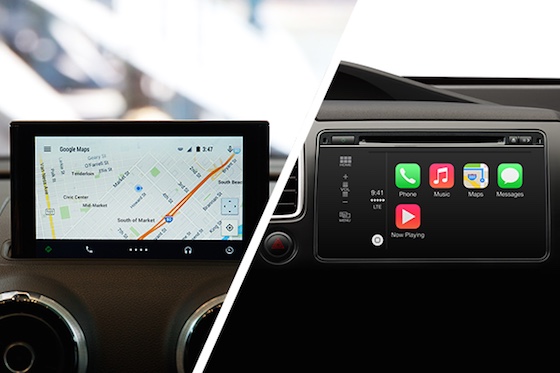 Regarding Android App Development India, you can develop any app with the familiar Android APIs and you can anytime extend it into the car app very easily. You do not need to worry about the user experience, screen resolution, software interfaces and touch controls because Android Auto is designed in a way which will be consistently compatible with your car screen. The API is available to create the apps for Android Auto. Some of the leading car company is coming to build an Ecosystem with Android Auto. To develop Apps for Android Auto, you do not have to draw the user interface manually but the framework has to pre decided Uis that are created automatically. This will make sure the constant behavior across audio apps and give you the freedom to deal with all the functionalities of your car and mobile device.
To know more in details regarding Android Application Development India for Android Auto, Hyperlink Infosystem can be your best guide. We have the best developers who are extremely skillful to develop the apps for Android Auto. Android Auto is all about connecting driver's mobile device with your car and making you a safer driver so Android should also experiment this with Uber App Development and Lyft App Development kind of Taxi App services which gives the better feel and add high value while traveling. Contact us for all kind of Application Development with all preferable features and in very economical price.
Back