Android Google map navigation is one of the best feature of android app development since long.
It would be nice if you could see some more information into it like nearest motels, railway station and much more. Fortunately yes, now you can see all these things in the forthcoming update of Google map.
The Forthcoming update of Google map will feature an alert updation of "Driving – mode" which would no longer need your search history and your past records for location to identify where you are headed right now.
The latest version is not yet available in the Google Play Store but would be the first major update of 2016 of Google maps that also features audio toggle and timeline changes.
Google map already have some predicted features but are restricted to some saved labeled places where we frequently visit like home or office and that to only appear when one taps on the search bar in the application. Entering an alphabet or two make the functionality work but no other single updation is like "Smart driving mode" that let you predict destination automatically.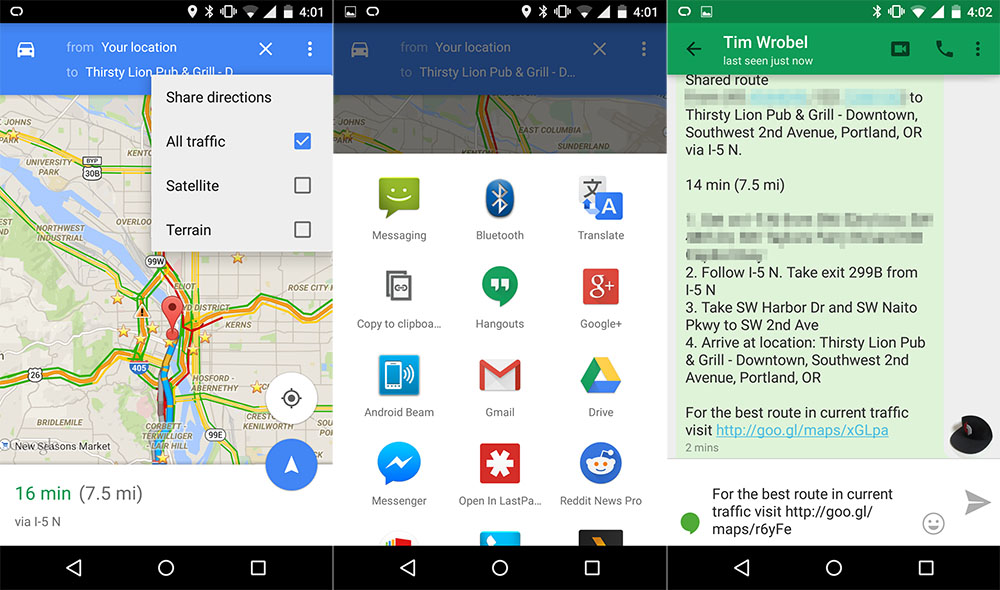 Some of the Feature that have come up with this update is as follows:
1) Offiline Mode
The users of Google Maps will now be able to search for particular locations, get step-by-step driving directions, and receive updates about places in an offline manner.earlier to this update using maps in offline mode allowed panning and zooming only but still map users have to download map for the specified area before going to offline manner for the sake of using new features and after downloading map if connectivity is not available on specific regions then goggle will automatically switch to offline mode .
2) Traffic Updates:
In latest update of Android Application Development of Driving mode in Google maps you can get traffic updates by discovering hidden driving mode that will analyze what it knows about your driving pattern and will guess the driving routes for you where you are headed currently and will notify you about the traffic updates if any till you reach to destination.
3) Voice assistance option:
The new update has an add-on feature that let user include a on -screen toggle for voice synthesizer that allows its services top be turned on/off assisting user through its voice.
The toggle option was earlier included in overflow menu option that creates difficulty for user to turn it o/off.
4) Hidden Driving Mode:
In the latest update to Google Maps, the new Driving Mode feature will be optional for users. You can enter this mode whether you have a destination in mind or not as Google map will intelligently use location history and some other important data in order to give traffic updation, estimated time of arrival and more. It can be enabled from a shortcut where the navigation drawer having a button to turn it off when required.Google Maps will use information it knows about your routine driving routes to guess where you're heading currently and let you know if there are any traffic updates along your way.
5) ETA:
It will acknowledge you the estimate time required to reach to the destination place.
6) Audio toggle for Navigation:
An audio toggle is been added on the app screen itself between buttons of search and compass having three options - muted, alerts only and unmuted - modes amongst which one should be selected depending on drivers preference.
7) Timeline setting:
In the latest update, the 'manage location settings' has been re-framed by what is called 'timeline settings.' In earlier version, using this feature was limited to delete location history
but now one can also choose to see pictures when destinations crop up. It has also added feature to re-correct location stored to improve Google database.
To activate this new feature you need to update the latest version of Google Maps and after updating follow these steps:
1) Go to Google Maps.
2) Navigate to settings
3) Select -"Sign out from Google Maps".
4) Select or click Multitasking button swiping away Google Maps.
5) Again open Google Maps.
6) Open Slide-out Navigation.
7) A "start drive" choice is been noticeable amongst options.
8) Again sign in to Google Maps.
These are the general steps being followed by most of users but steps may vary in accordance to device.
* Device Compatibility to make update work:
Android 4.3 (Jelly Bean, API 18) minimum for the update to work.
Do you found the latest Google Maps updation useful? What features would you like to see in future? Let Hyperlink Infosystem the top app development companies in Android application development India know for further betterment in development.
Back