What is the story so Far ?
5G is the technology that will reform the world wireless . It will let you be in connection with millions of people and With IoT wireless. Actually 5G is the next generation commutation technology that wouldn't be accessible to all of us before the onset of year 2020, but still the excitement to use such a revolutionizing technology sways in mind of people all round . But the Question that is natural to rise is that how Ready we are for 5G?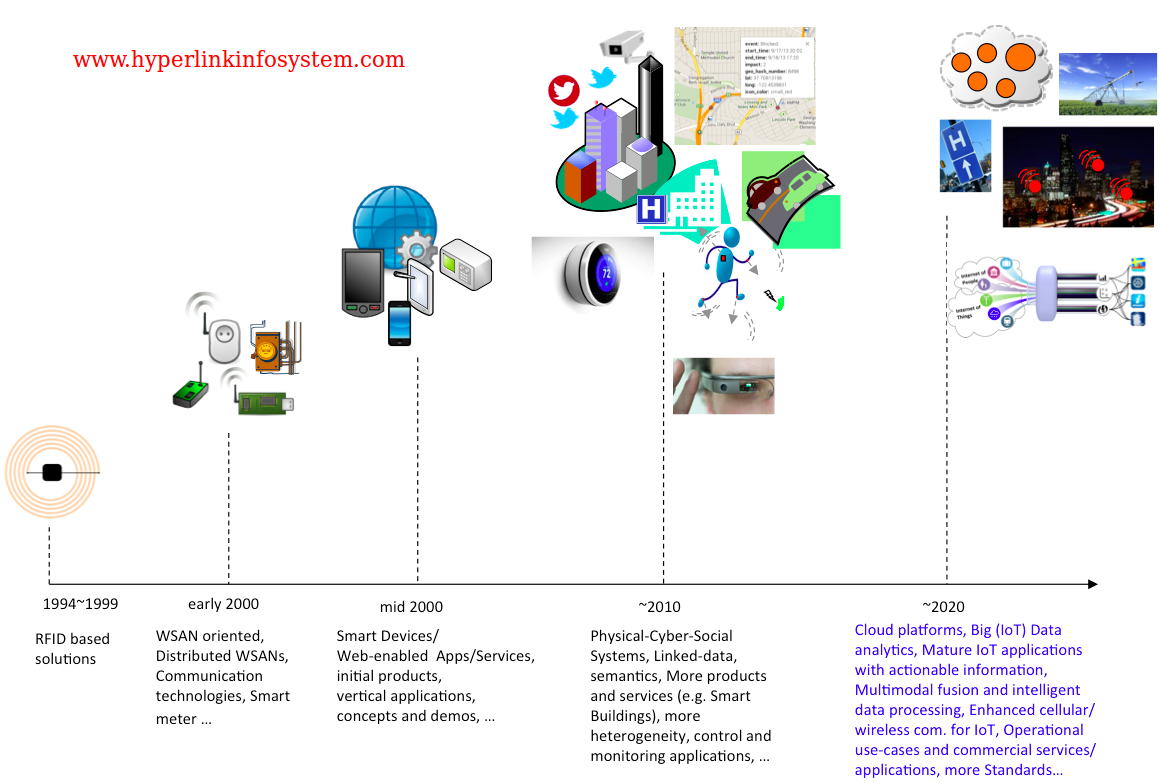 Lots of competition is being palpable amongs various countries of the world for early demonstration of 5G technology in the eyes of the world. Japanese government foresees the commencement of 5G by 2020 Summer Olympics while South Korea intercepted to show trails late by 2017-18. Sweet talks are ongoing with India and US for the commencement of 5G.
Scuffles between Companies...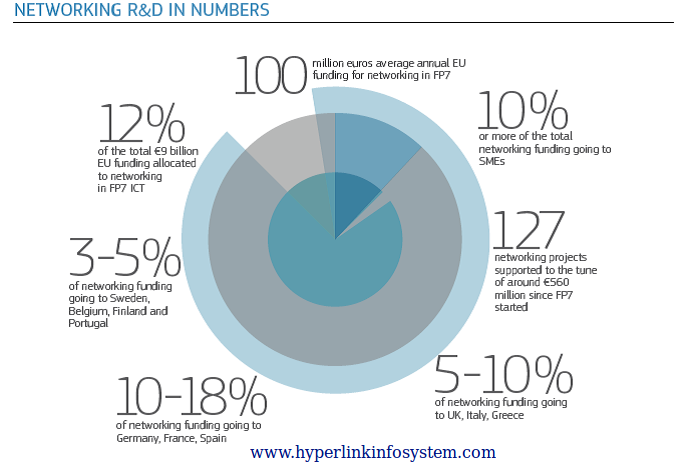 In January 2015 – The Office of Communications, the Government sanctioned regulatory and rivalry authority of United Kingdom announced 5G speeds of 10 Gbps to 50 Gbps to its peoples by year 2020. In 2016 Mobile Congress Intel elaborated its plans for 5G. Intel connotes to have a array of alliance with companies such as Huawei, Verizon,and Nokia on networking related technologies and 5G networking.
Other companies that are keeping its mention in expanding the menaces that 5G provides are China Mobile, Telefonica, AT&T, Vodafone, Ericsson, ZTE, NTT Docomo.
Google bought a start-up in year 2014 as Alpental Technologies,that was intended to develop a cheap, high speed commutation services to people using millimeter wave (mm Wave)with the spectrum band higher than 3 gigahertz, where possibilities of 5G where much higher.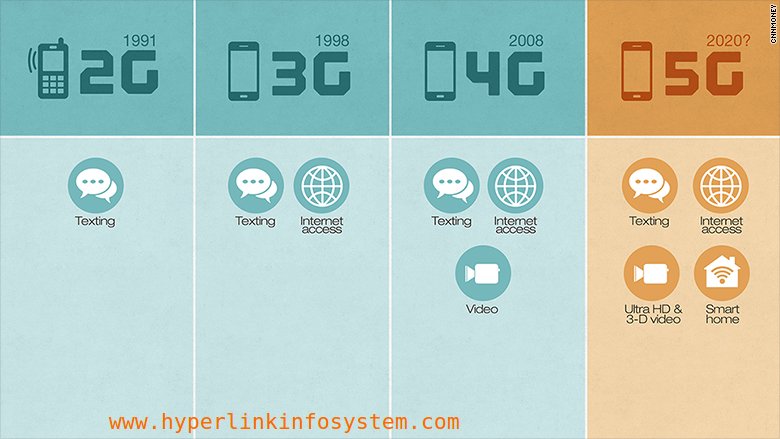 But at GTI Summit 2016, held in Barcelona, top-notch worldwide telecom operators that includes Vodafone, China Mobile, Bharti Airtel and Soft bank were grouped together to launch GTI 2.0, which was their five-year program. "It is quite essential for the industry to continue developing 4G and to group together to describe the standards for 5G technology a way far from its assumed commercial introduction from 2020 onward," pointed out by the CEO of Vodafone Group Plc MR Vittorio Colao. GTI 2.0 targets to make forth existing 4G technology and industrial development of 5G technologies.
Nokia intends to invest a $350 million fund into upcoming IOT projects, a newer 5G ready radio accessible product and the procurement of company labeled as "Nakina Systems. " which is an Canadian networking security company .
What are the Expectations or Outlooks from 5G we can Foreseen ?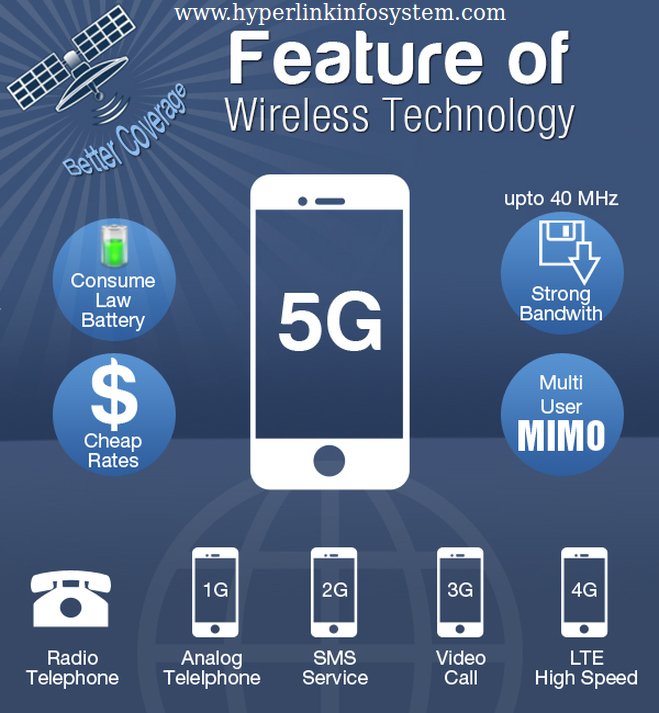 5G or fifth generation cordless technology will foster us great speed. Under the 5G plans , Carriers will propound internet speed of more than 10 gigabits/second.In Accordance with the Huawei's deputy chairman Ken Hu, it will be about 100 times faster the speed of 4G connections being delivered today. 5G will also have data capacity of more than 1,000 times of 4G.
It means that you can download an HD movie in lesser than 5 seconds.In Current Situation the latency is around 60 to 80 milliseconds that would cut down to 1 millisecond with onset of 5G.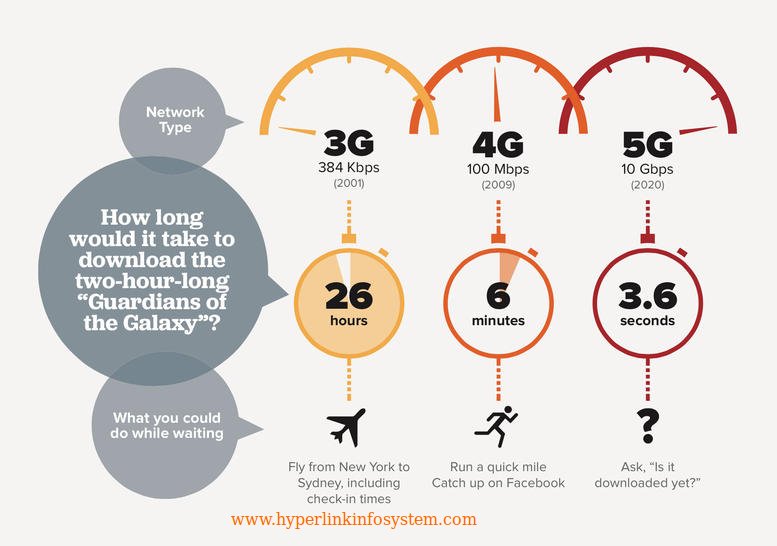 A new era of cordless devices will morn where millions and billions of newer devices will be in race for buyer's eye watch and money. Smart watches,jackets, and other wearable things and commercial products bonded with location and context sensors will be decent. These devices will be in need of continuous connectivity.
Huge changes are being foreseen at our workplace, home and on the highways.It futures a big dawn in IOT with the inception of Smarter homes, Smart City Context Sensors , automates systems levers the immense ground forces for 5G technology.
The Way beyond our Imagination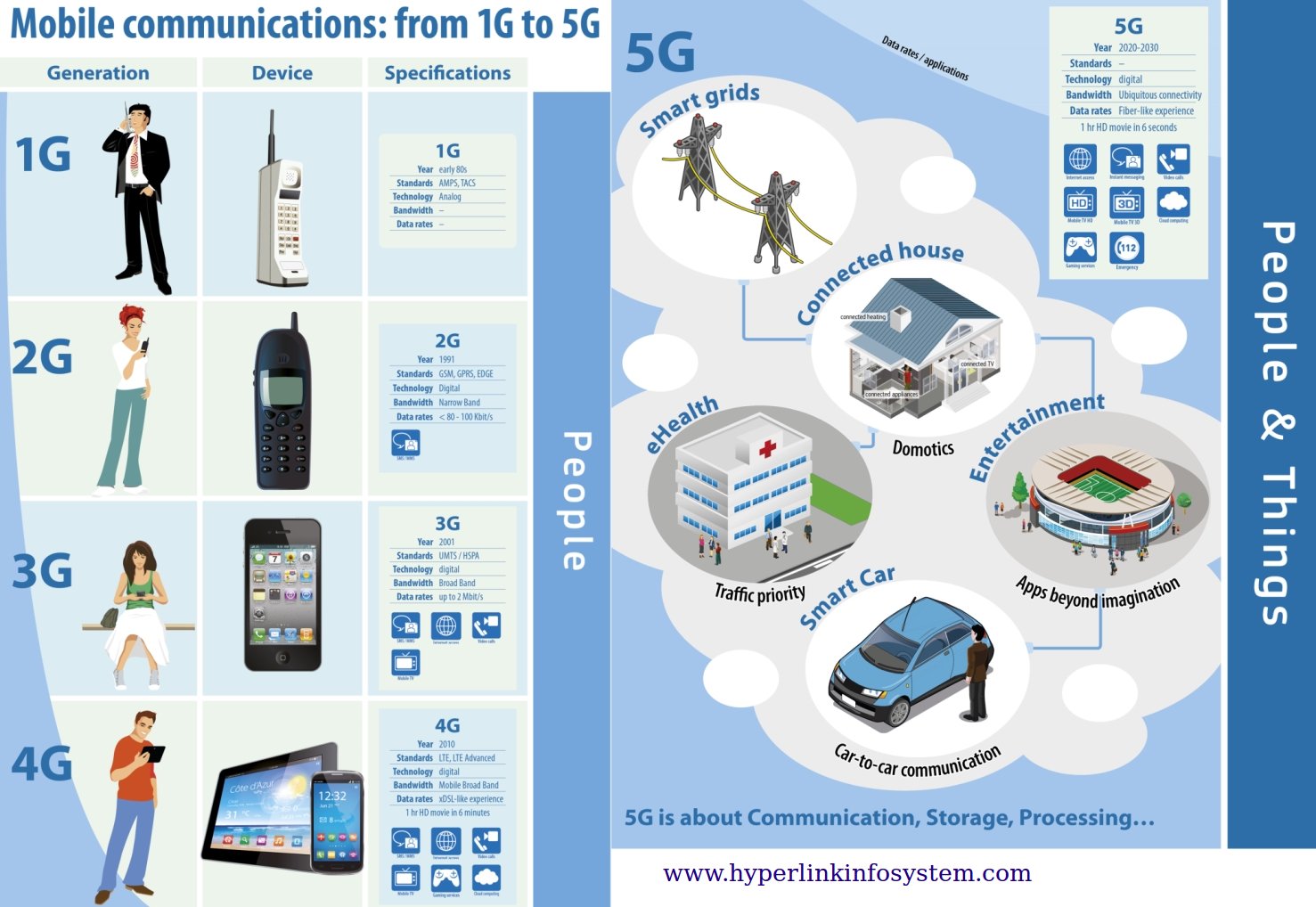 By the dawn of year 2020 5G tech networks would need hand grip spectrum like mobile phones,mobile van healthcare services , robotics , cars and much more. Now , the total burden is on the shoulders of community to step ahead and group together to define a Universal Definition for 5G. Focus areas for 5G are need to be dig out. Mentions for the services to support the latest upcoming 5g technology is need to be cleared and specified – but the current sensation depicts that 5g are most likely to be interacted with video streaming , Cars and automation sectors and the most Popular amongst users is IoT. Various Countries are in race to deploy 5G in sectors fostering health and education , smarter cities , Transportation & energy and agricultural sector.
Internet Of Things smashing current trending Fashion by Year 2020.
There is a increasing regard about security. Industry is targeting on pinpointing the security risks faced by the devices and the internet of things before 5G becomes a substance. The onset of new tech and new module will represent new challenges to security and privacy safeguard.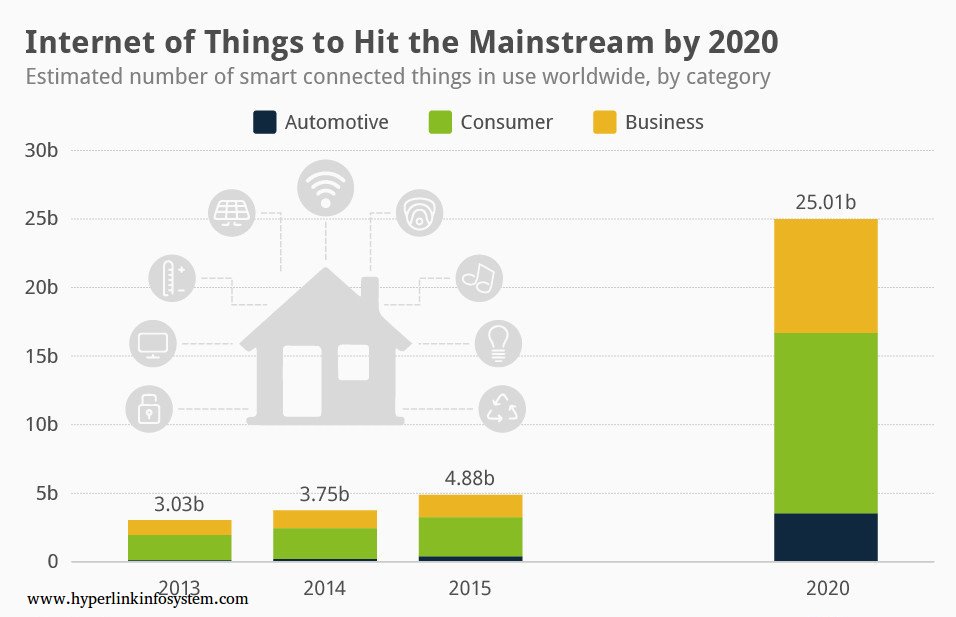 The data traffic volume will be massive. It will increase to obscures before levels. User data packets from millions of people may travel through different networks and the user privacy information could exist in any piece of cake, under any dominion in any nook of the network. There will be an emergency need of virtual network slices ensuring that their resources are protected from other network nodes. Enterprise A would need to lock out its resources from Enterprise B.
5G security schema will therefore need to be an thorough which would need to provide security protection for almost every concerned thing in the world that is in connection.
Restate for Lucidity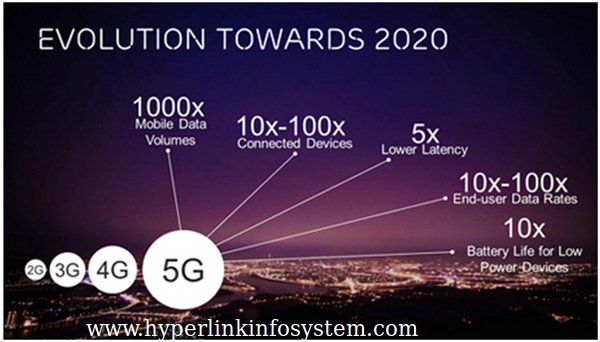 The 5G technology is still its way away but the competition to be consistent when it arrives is on. There is an immense need for clearness which with no doubt will come with time. Ulf Ewaldsson, Ericsson's chief technology officer hits hard with the uttermost important question striking on everyone's thought when he asks, "The billion-dollar grass is How will a 5G network look like?" Everyone has a rough idea and soon time is the one to answer the vague of 5G. The procedure of deciding a universal standard for 5G wireless technology cannot be fulfilled before 2019.All this demands lengthy dialogues over what type of radio frequency would the networks propel, what kind of technology will standard – it will take years to know.
The Capsule of the discussion :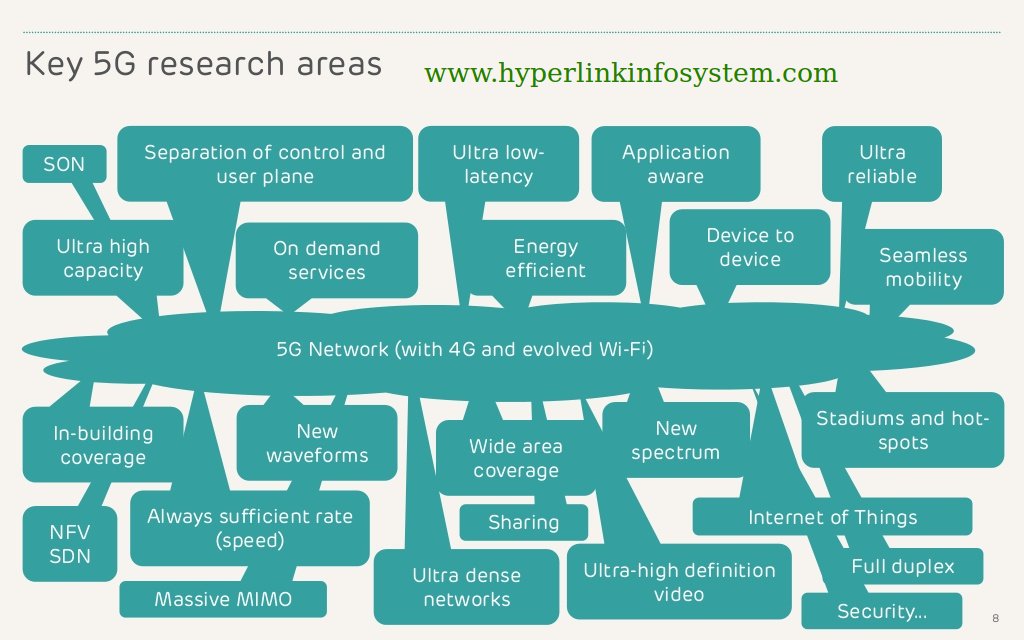 The world needs to come up for harmony on a lot of the things. And above all, 5G technology will not be the cheapest to consume. Governments and the companies are on its ways to bring it to the people amongst which some of the assumptions are Self driving car , Unity 3D Game Development and many more to be explored. There will be a lot of discussions by Android Application development India before we reach universal solutions. We will be there with the solution . By 2020, or probably Earlier.
Back