Virtual Reality, the technology which has reshaped the imagination and visualization from the core. It has brought the renaissance in gizmo world and also in so many App Development Companies. It's an imaginary world wrapped up with immense power, intelligence. Being wormhole to the virtual world, the concept of Virtual Reality is designed to bring humans to the distinct world where they can interact with the 3D visuals.
It is an impressive world where human can be part of the simulation setup and can carry out marvelous activities. Virtual Reality surroundings can be exhibited on computer screens with rich sensory effects which include sight, hearing, touch and smell. The technology has seamlessly broadened the areas like Training and Education sector, Gaming sector, Military, Healthcare, Entertainment, Media and a lot more to go.

In training and education sector, it is now possible to use simulated environment where trainees can get advantage to work on replicated setup on an actual system; for example, astronomy students can learn about the solar system and how it works by physical engagement with the objects within. They can move planets, see around stars and track the progress of a comet.
This also enables them to see how abstract concepts work in a three dimensional environment which makes them easier to understand and retain. With the help of surgery simulation medical student can carry out and explore complicated surgeries. Hence we can admit that with the help of Virtual Reality devices education is now going beyond the books to gain practical knowledge.
Virtual Reality Devices are boon for Military field's i.e. Army, Navy & Air force. It includes fight simulation, Battlefield simulation, Virtual boot camp, Medical Training (battlefield).Virtual Reality in the military can be used to cure PTSD (post traumatic stress disorder) which is a condition in which soldiers suffer from battle field traumas and other psychological conditions and with the help of Virtual Reality they can learn to adapt and live in a safe environment.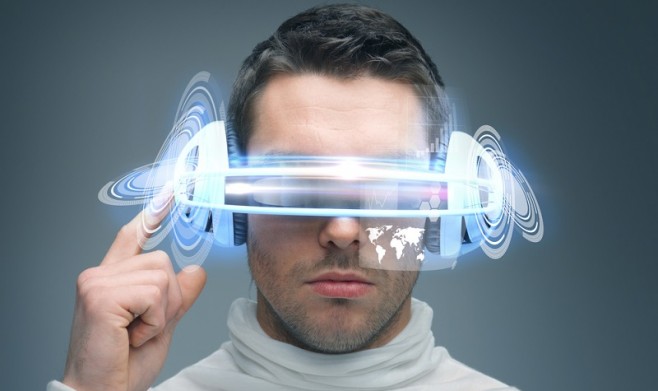 Virtual Reality Training in Military involves the use of head mounted displays (HMD) and data gloves to enable military personnel to interact with objects within a virtual environment. This HMD can help trainers in Virtual Reality wars, military exercises, combat training and in other activities.
HealthCare sector is a major consumption unit of Virtual Reality devices; it encapsulates applications like surgery simulation, phobia treatment, robotic surgery and skill training, among this Robotic surgery is a marvelous innovation in HealthCare Sector. This surgery is performed by Robotic device which is controlled by human surgeons this reduces the time and risk complication.
Another modernized innovation, which has been created to save human life is Remote Telesurgery, in which surgery is performed by the surgeon at a separate location to the patient. This is how Virtual Reality has bestowed all different domains and now it is leading towards involving itself to ease daily regime of humans. Virtual Reality has also a great impact in Android App Development and iPhone app development industry.
Back