Have you ever marked that some App development enterprise test with their existing website landing page or web UI before choosing a more steady web design? Ever imagined what is this all about?
Yes, this is done to estimate the users reaction with web design variance to actually come upon with a design that is most pleasing and employs best conversion rates. And the keyword is phrased as A/B testing.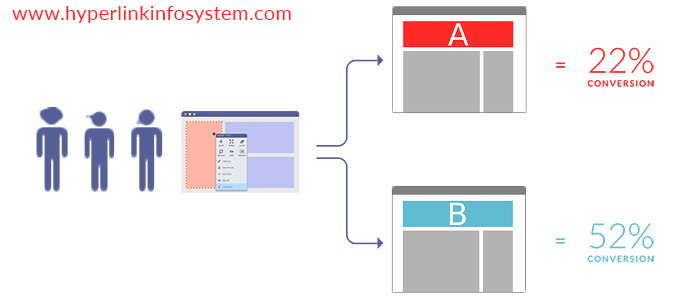 A/B Testing can be termed as a statistical analysis to gain absolute outcome based on two models that under the wrapper of testing.
Web Designers,Marketers, and e-commerce businesses are always eager to advance their online dealings, conversion rates and sales. They employ A/B testing as a tool to examine various UI and design models.
What to Achieve from A/B Testing?
A/B testing remains as one of the most trended and most recommended strategy for testing web performance for content experts and of course for marketers itself.
User Interface designers and creators , graphic designers, website developers and social media techies are always eager to use A/B testing because a excellent UX has a verified link with more pleasing visitors actions on the website.
3 Things to Acquire in A/B Testing
The following accent can be utilized to measure the user expression through A/B testing.
1. Email Sign-ups
Email Marketing is an important tool for collecting leads, enlist visitors and use the visitors to increase the outcome of the website. Email sign-ups is generally measured as an strong strategy among bloggers, industry and business to provide users with know-how , discoveries and content.
Lead pages is counted as one of the peak online marketing tools service for webmasters and experts of social media. It bestows marketing plans for leads gathering, landing page UI, and visitors connectives through proud opt-in forms.
2. Conversion rate
Conversion rate is the proportion of compensated customers against total leads. While your website can be very alluring for web visitors, you must also make sure that a rich number of these users are also transit into customers.
3. Click-Through Rate
Click-Through Rate meters action through the amount of clicks a certain link, page within a time period. This is fruitful to find out the top ranking pages or links that are blessed with high clicks.
Another important calculation is the time spent by users on portion of pages of web partition.Among other most used marketing platforms is the renowned Wish-pond that offers many form design choices for landing page. It also provides with online marketing tools to employ, captivate and turn out visitors to subscribers .

Unbounce is also one of the renowned online tool for testing and marketing evaluation.
Visitor's Behavioral Study
A/B testing is a requirement for classes that are quiet enthusiastic to fathom how to advance conversion and CTR. Of course ,more the better conversion & CTR more would be sales & profit.
Website development and SaaS service organisations are showing their willingness to invest time and bucks to fathom their visitors' presence in depth. They want to match exact behavior of what people desire for and what makes them allure .
This way they can advance their web presence online to employ more value for the visitors. For instance, if users are often clicking on Newsletter subscribe button, the owner might want to include at the end of the form.
Advancing and finishing visitor and UX is a monotonous process in which A/B testing has an essential role-play.
Your Part
That's all from our part , folks! Feel free and easy to convey to top app development companies what you have in your thought for A/B testing. And do fathom us if you have knowledge regarding any other online testing tools available. Keep buzzing us ..!
Back