There are end number of applications being deployed in app store on fix basis. But not all these apps are downloaded, top-notch applications that satisfies the needs & requirements demanded by user is having high ratio to be downloaded by the app-store. There are scenarios where non-technical people have outstanding ideas and hire developers to convert the same in form of app that in return generates business for them but the hurdle that is being faced is that app is developed but what after the development? How to cart that app in the devices of millions of online users that are slaves of the smart phones ?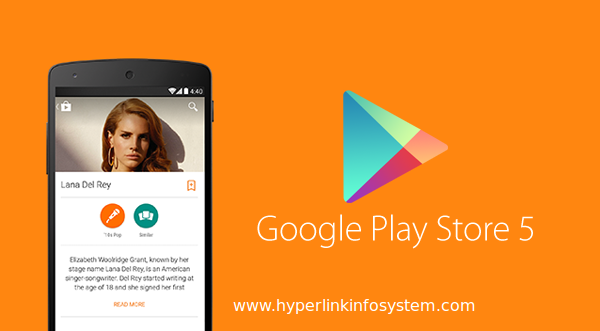 Don't worry watch out the full story delivered by Hyperlink Infosystem that unfolds in-depth exposition about how to deploy your applications on huge scaffold like Google Play store Platform.
To upload an app on Google Playstore you need to have:
1) Android Project in android studio or an signed apk
2) Working Internet connection
3) Credit/ Debit Card to payout for Developer License
4) Screenshot of your app in your PC.
STEPS TO CREATE APK
Step 1: For Exporting application just open up android studio -> build -> Select Generate Signed Apk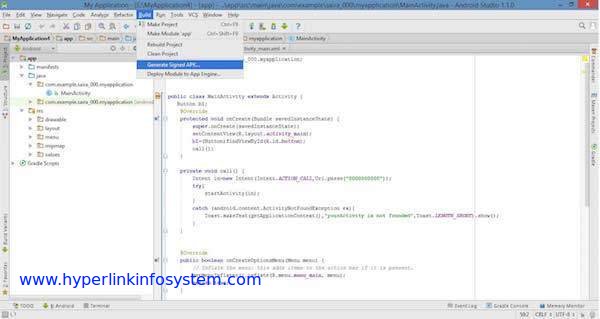 Step 2: Now choose Create New Keystore to store your application on playstore. Now Enter your Key store path . If you have not created keystore earlier then choose create new option else if you want to update your app then select choose existing and select the key store path . By choosing existing you need not to create new key store every time you want to update app.
Then enter password ,alias name & Key password . Move on to next button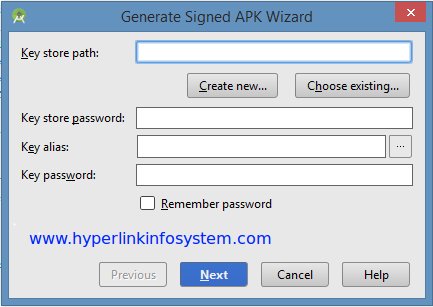 Step 3: Now enter your apk destination, select your build type and set flavors then click on next will lead to apk generation of your android project that would be uploaded as an app in play store.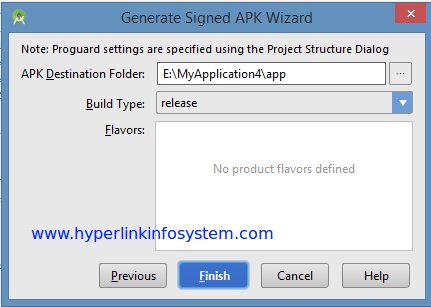 Now to upload your Application in Google Play Store you need to register with Google Play Market as Developer Account.
How to upload your .apk file in Google Playstore?
Follow these simple steps to learn more about installing your apk file in playstore:
Step 1: Go fot Google Developer Site and then search for Developer console and navigate to the same link .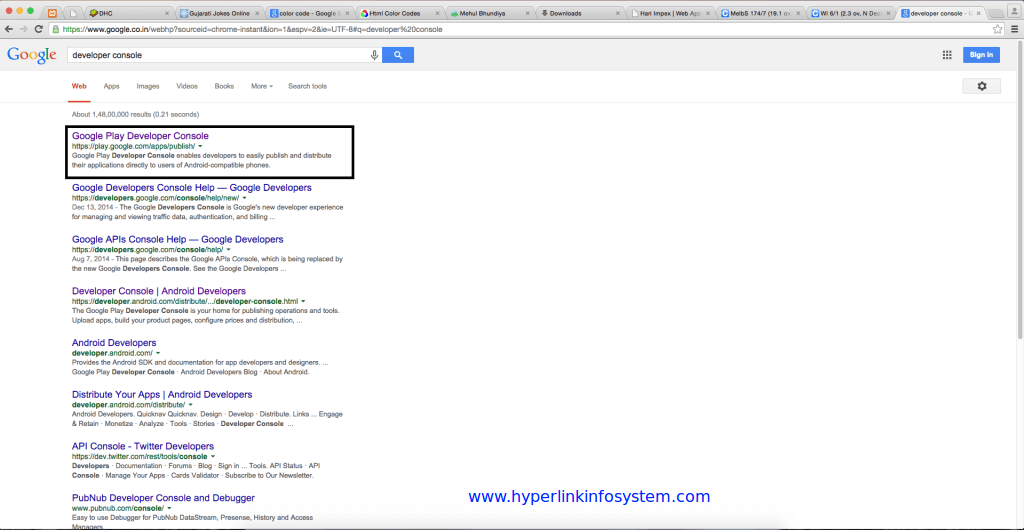 Step 2: Login to the developer account or sign up to the account with your Id and Password if already created earlier. You need to pay $25 once as sign-up fee to Google for creating account via your debit/credit card.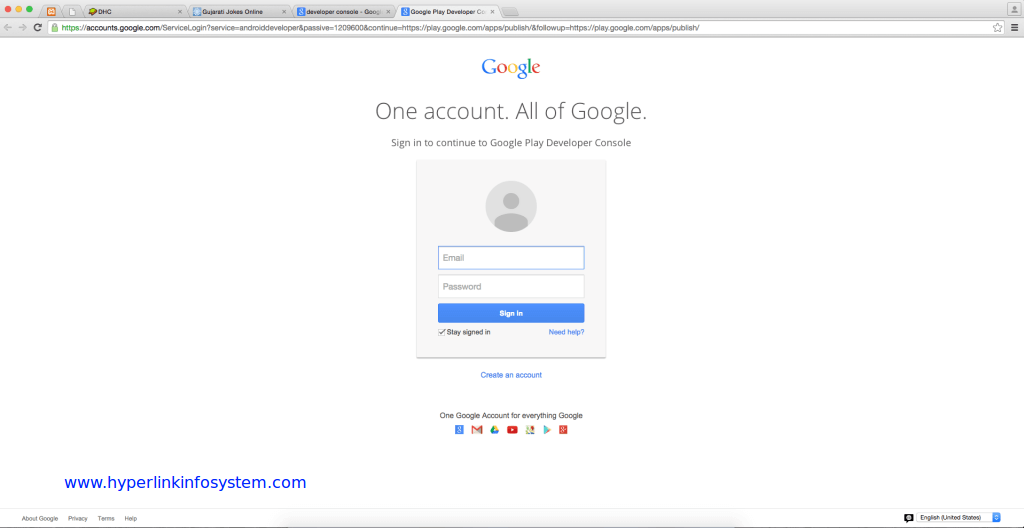 Step 3: Now Add your newly created application by clicking the blue button named as " + Add new Application" from the console.
Step 4: Now we are commencing apk upload . In Add new Application you need to select your needed languages from the drop – down menu highlighted there and then name your application in a way that you want it to be limelighted in Google Play store & upload your apk by selecting " Upload apk" button.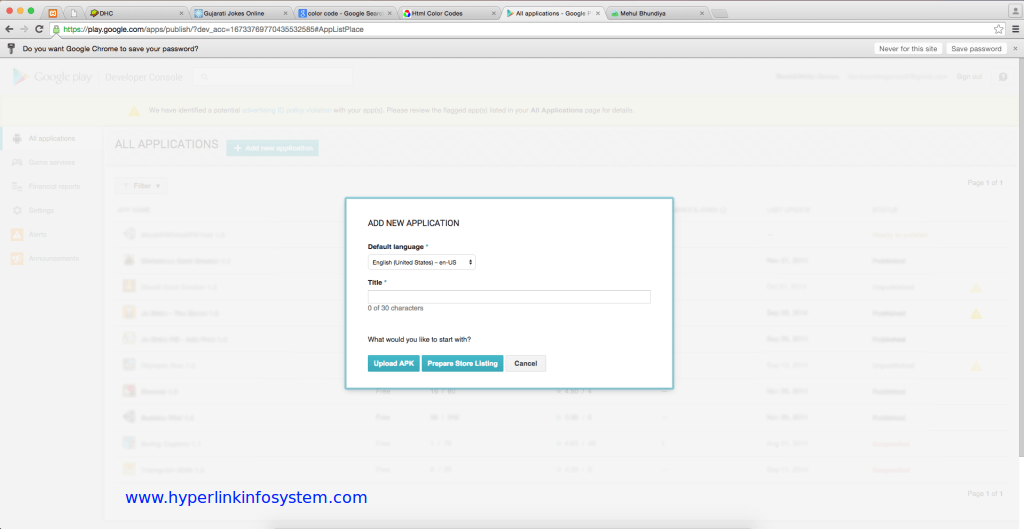 Step 5: Now you are redirected to the new homepage of your installation . Now select the button named " Upload First apk to Production".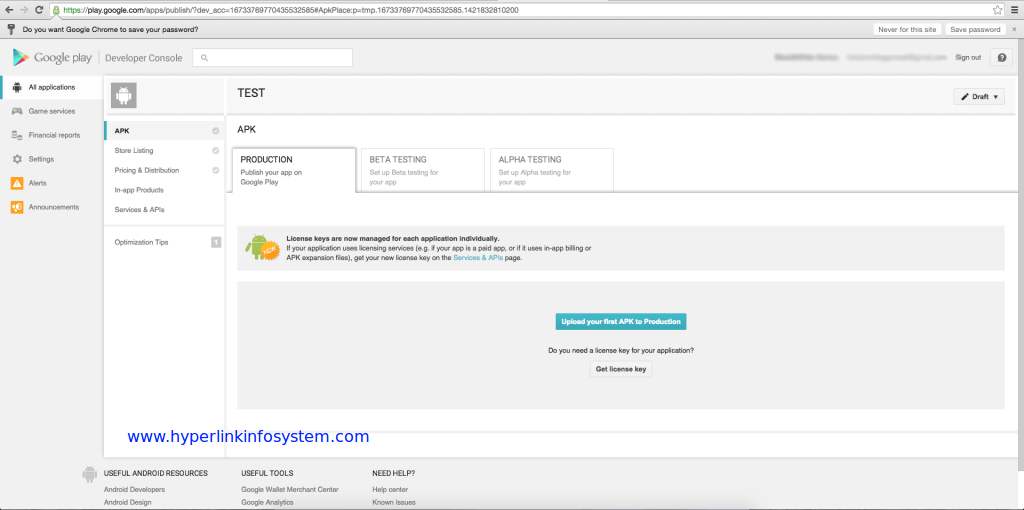 Step 6: Now a dialog box will be visible from where you can see your .apk file exported from your android studio.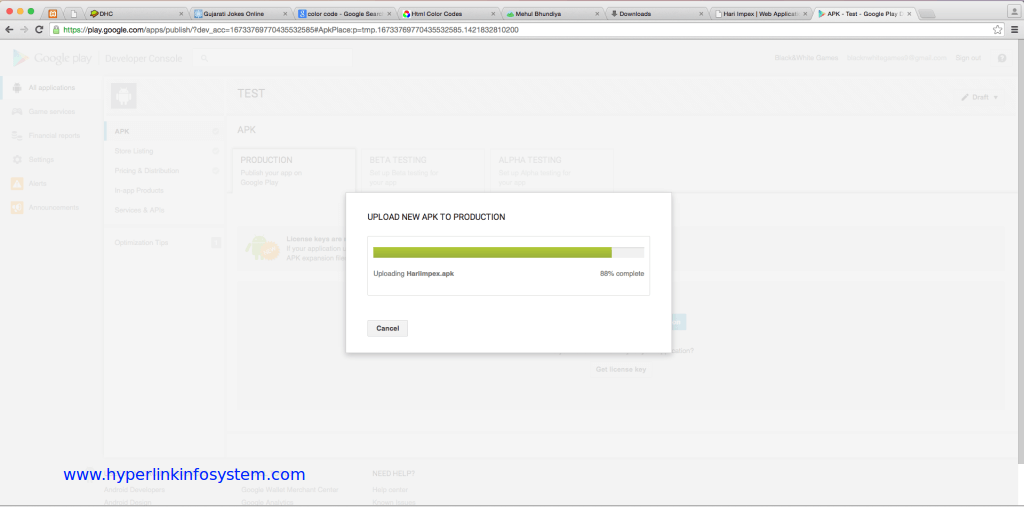 Step 7: Once the apk is successfully uploaded a short and long description is required to be included in store listing page in order to make it visible on app store. This added description will appear on the page of your app in Google Play store.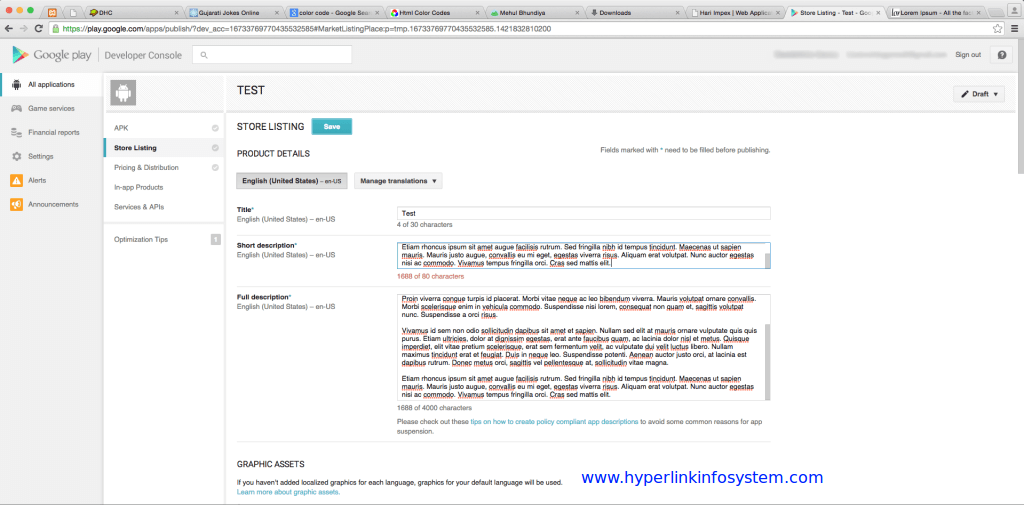 Step 8: The next step to be followed is to add sample screenshots of the app. To include screenshots just pinpoint on the "+Add Screenshots" buttons in reference to the device they were taken on. A dialog box that apperars allows you to choose the screenshots directly from your system.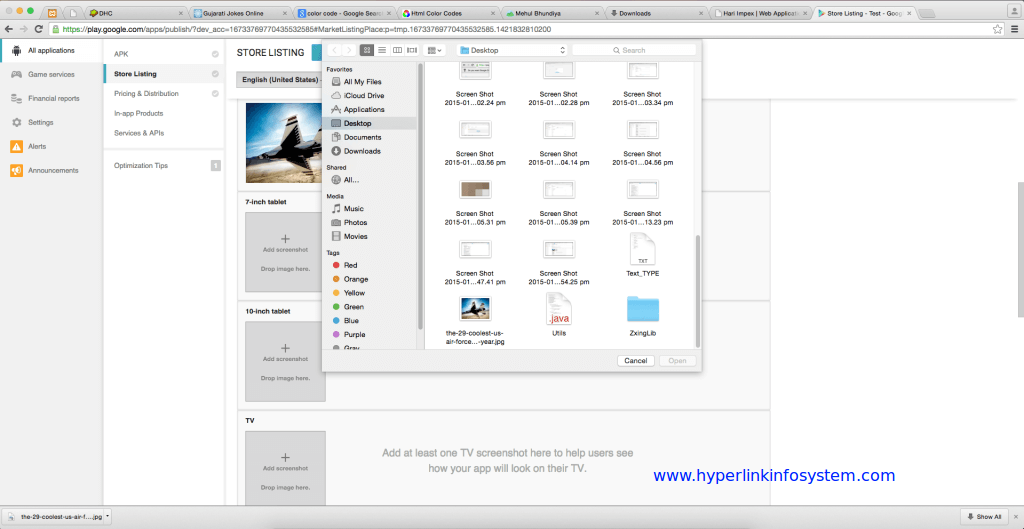 Step 9:
The next step to be proceeded is to add an icon in your application . Icon is the image that is poped up alog with your app name in Google play store.By clicking on the browse button will allow you to select the icon in the manner you choosed screen shots.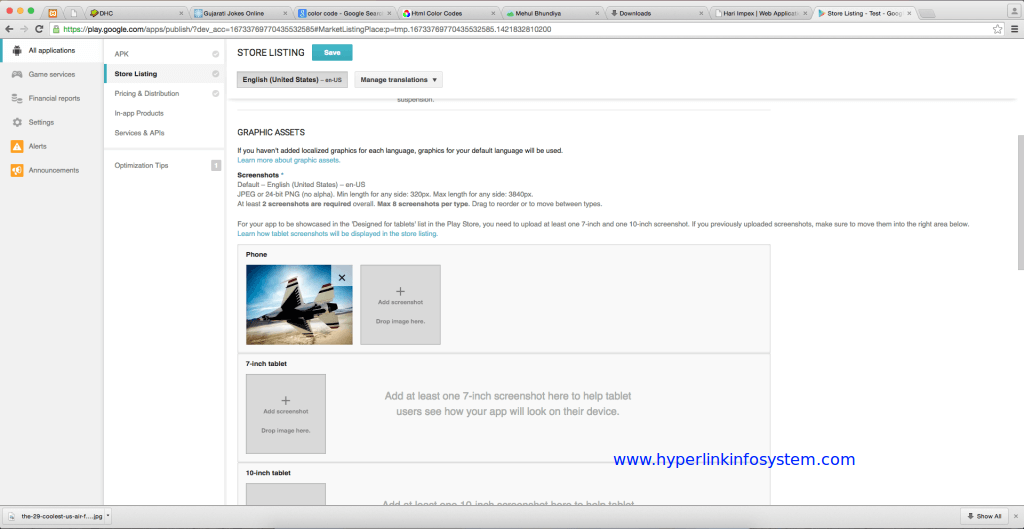 Step 10: This is the final and most crucial step for your app as it plays a major role when any violation happens with the application. It includes filling up details regarding contact details, categories, privacy policies . Now click on ok button . The store listing tab must be marked green besides it.
Step 11: Now click on the "price and Distribution " tab where you need to decide whether you app is free or paid , Selection of multiple countries for your app distribution and the check box that says that you conform to agree with the US guidelines & export laws . Now click on OK button.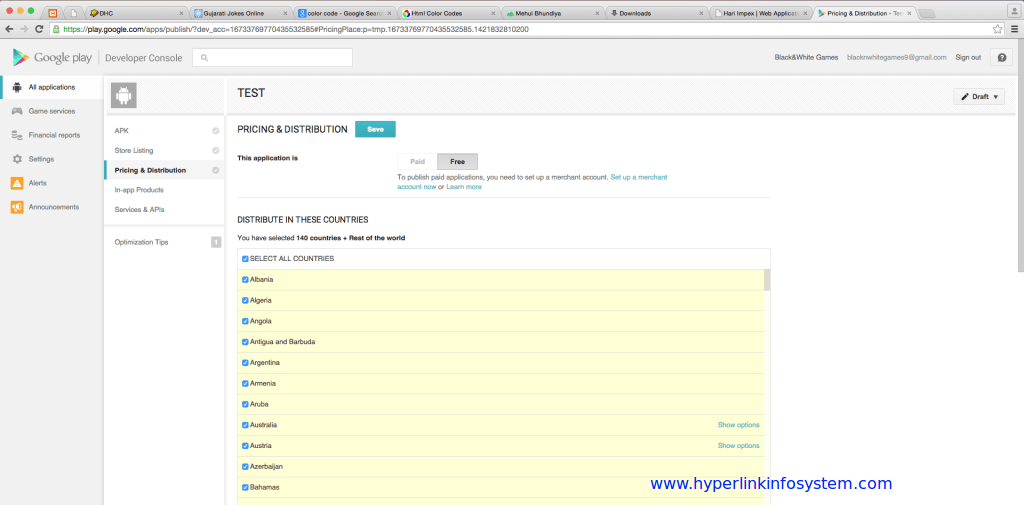 Step 12: Once all the three tabs have turned green then now, it's time to publish your app in play store by selecting publish this app from Ready to publish Drop Down Menu. By doing this a confirmation bar will appear stating that your app will be published in app store within few hours.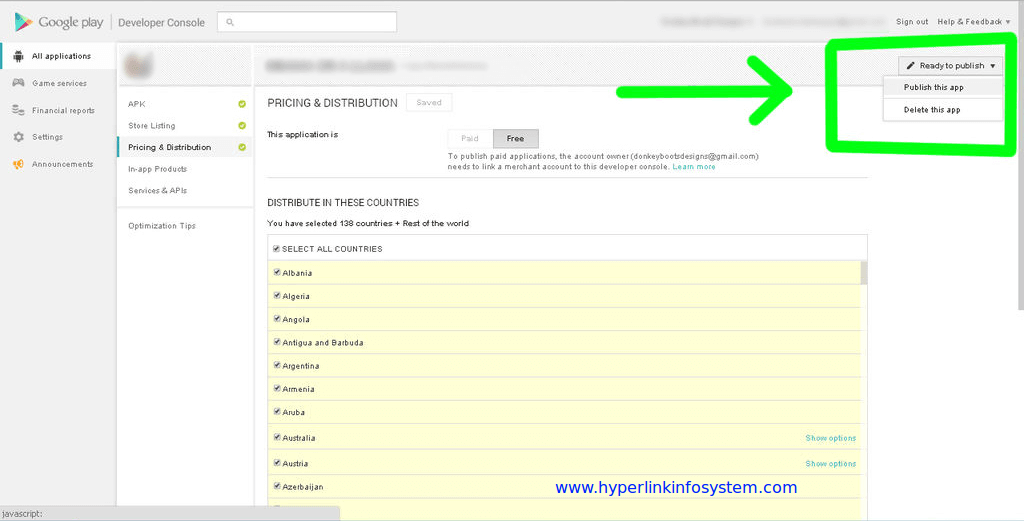 So i expect that this blog would be helpful in making you understand about deployment of application on app store and especially for startups.
Got a view about android app deployment? If it's no then what else is keeping you awaited? Contact Hyperlink Infosystem one of the best app developers india company and see your app live soon in playstore.
Back