Do you want to grow and stay competitive in app development in the present technological age? The fact that mobile app testing remains relevant for app development can't be further stressed. It is the best alternative for developers. It is especially a great idea for app development enterprises that see the need to achieve success.
Mobile app testing is essential before an app is launched because it calls attention to errors that were made when the app was still in its developmental stages. This testing is also relevant because it helps in reassuring the client about its dependability and fulfillment in the app.
All
app developers India
should be aware of the fact that some of the common challenges that affect mobile app development could be averted if a test can be done before the inauguration of the app. Presently, Smartphones are a cogent part of both individual and corporate bodies.
The use of mobile applications has now become a necessity for all business. Every day new enterprises relating to mobile app development sprout.
Most companies that are into the mobile app business all contend for strategic places in app downloads. Though, many people believe that before a mobile app becomes successful, it all depends on the type of program and its efficiency. Others believe that the difference between an app which sells and the ones that don't is mainly entertainment.
The fact is not about possessing a nice app because consumers can neglect a program if it doesn't function well, though it might look hopeful. In contradiction to this, the easiest applications can be profitable for a business if it works perfectly.
About half of below average reviews on the app stores are as a result of malfunction, poor performance, and battery issues. There is no core software engineering field refer that constitute a threat to mobile app development. Almost all of these number has had an experience of frustration, and as a result, the app was abandoned.
This statistics only stresses the reason why app developers need to learn the art of mobile app testing.
There are larger numbers of software companies that identify the value, worth and importance of funding in
mobile app development
. This is another key reason why it is reasonable to expand your investment to testing mobile apps and not considering the finances involved in testing. It is to make you understand what programming and testing for different mobile platforms entail. In the end, putting more efforts to attain an assurance is eventually worth it.
Challenges Of Mobile App Testing With Their Proposed Solutions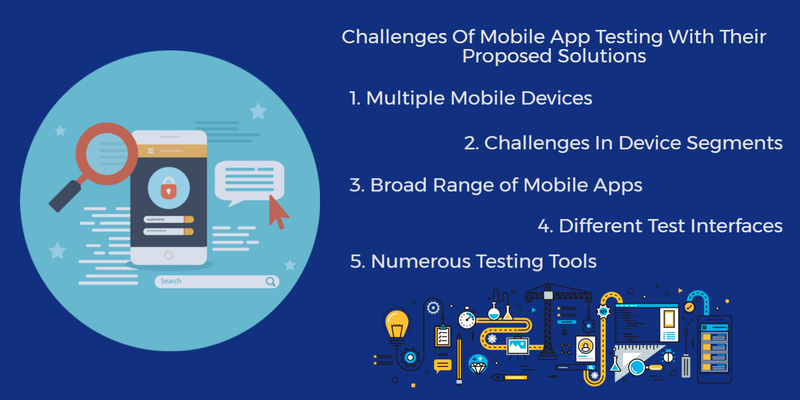 1. Multiple Mobile Devices:
There are many mobile devices that have been released over ten years ago. These devices conveyed include regular handsets, smartphones, tablets, iPhones, and iPads.
Though, this isn't an assurance that a tested app would function well on any particular device given. It isn't a guarantee that the device would work perfectly fine on another device. The reason for this is that the screen resolution and hardware are different.
2. Challenges In Device Segments:
Testing matrix is one of the problems in device parts. Although the iOS device is increasing every day, these segments pose a great challenge for the Android operating system and engineering teams. It also has challenges when it comes to suitability issues.
3. Broad Range of Mobile Apps:
Testing these types of mobile apps, which are native app, web app or hybrid app varies from one another because of their application.
4. Different Test Interfaces:
Relevant testing tools are emulators and simulators which permit one to confirm general functionality and conduct a regular reversion testing.
The merits of the tools are not sufficient, and it mustn't be used as an alternative in a real-world.
5. Numerous Testing Tools:
There are quite an enormous varieties of
mobile app testing tools
out there in the market which is Free/Paid for a native app or web app and Android or iOS. It's left for you to make enquires on the one that would suit your devices.
Mobile testing helps to bring solutions to mobile issues and assists
mobile app developers in India
to avoid program malfunction. Thus, it is important you know that testing is very necessary. It is advisable to decide on what to test for because there are different things you can test on. Most times, it can be challenging to discover the necessary elements that need to be tested. If important parts fail to meet a target, the application can be wrong.
There are numerous points that need to be tested, which also entails various attributes on each category. For example, testing its functionality is crucial at the beginning. It is also mandatory this functional test contains customer submission forms checks and the search feature.
In essence, developers have to check the media components like video and audio playback, conformable libraries and scripts with any manipulations in which the app can try out.
To as many businesses that are out there, it is very crucial to ensure that your app works well. The same efforts an organization puts into product idea and in a building of the business should be considered towards the testing and standard management of mobile apps. This type of testing can't be achieved in-house because it involves technical expertise.
Most times standard mobile app testing firms assist in sorting out problems before potential clients get frustrated with the issue. They also look for possible ways to amend the problems before the app is offered for use.
Mobile app development company
makes use of various kinds of phones with all core operating systems. The professionals also take advantage of many phones for testing to guarantee a proper function. Furthermore, it makes them find out more bugs, and after then it is fixed up and offered for use.
As a developer, it is necessary to do a test run on your programs for customers to have a pleasant experience. This action on testing is a very crucial one in its surrounding. Mobile testing platforms help
top app development companies UAE
to test run their websites and apps with ease. Just with a real-time analytics and visual test environments, mobile app testing companies has the power to ascertain the functionality and standard of their program, while hurrying the duration to market.
Testing is not close to the most thrilling side in developing a mobile app. Thus, there are many tools that quicken the tasks and make it faster, much easier and smoother. Searching and looking for solutions to bugs is possible when an application is set out, which becomes known by people and later on there would be a larger take-up.
It is safe to say that mobile application testing is presently a critical section of mobile app development. Most of the issues that most mobile apps have can be sorted out with the use of mobile app testing. It also increases and guarantees a
successful app development
. A standard mobile app testing company can give you an assurance of the functionality and quality of the app.
Back