You had a intelligent perception and you decided to craft the idea as an whole application. You are blessed with the team of developers having years of experience in app development. But how can you ensure about codes quality ? Manually testing of app is time consuming and almost impossible. And when all the codes are converted into amazing app how will you fix all the bug ? By manual Testing ? Isn't it a tedious job ?

As time flows multiple tools are available from big businessman that help them staying on the top of the app development way. For app developers the most baffling period is when the users install the apps on their mobile and start grumbling about the fixes to be done. You wring your brains to find the fixes.
Instead Let's have eyeball on some of the tools for testing that helps you for easy finding of bugs.
#1 Test Fairy
You build up your apps investing months and months of sweat . After your final build you dispatch it for beta testing amongst your cousins, friends and relatives but what if the app crashes? You have followed all the prototypes still it crashed ? But why ? No one knows the real bug about it .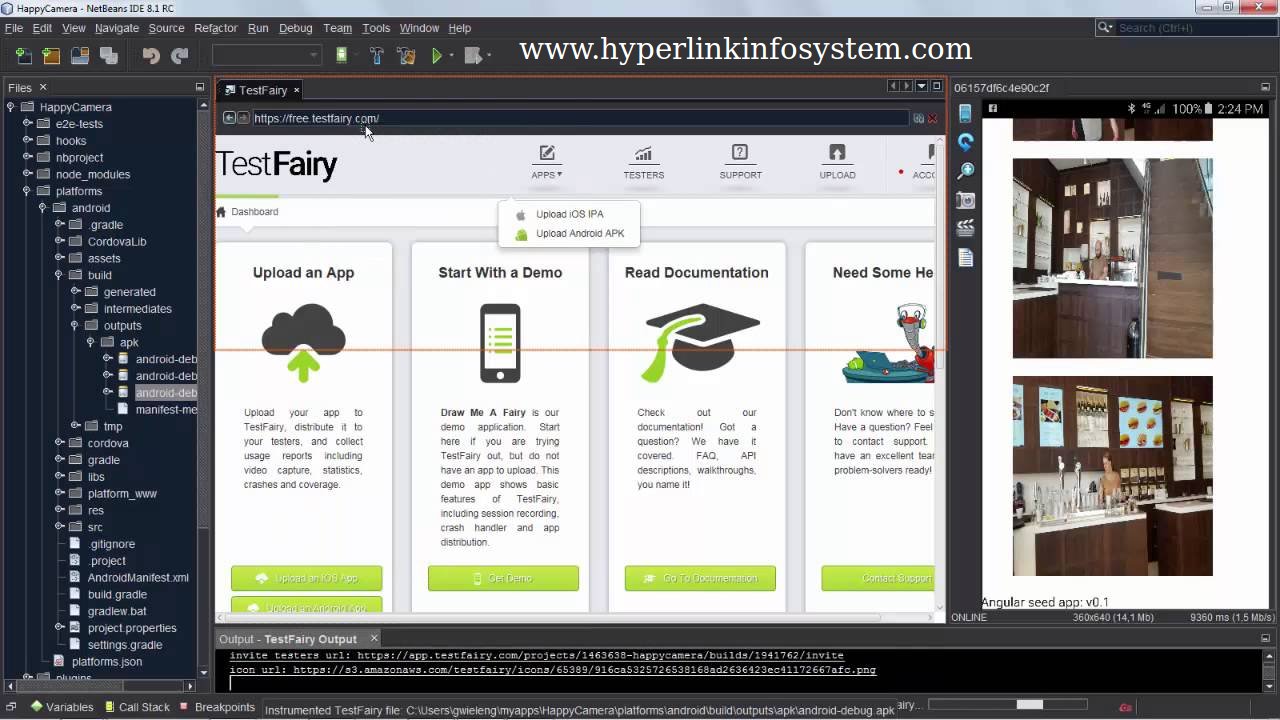 Don't panic . To solve this riddle Test Fairy had keep its foot in the ground, it provides you performed tests videos. It records the use of the test done and the actions of the testers . If during testing your app crashes then it maintains the screenshots and logs of the events to have an idea about the reason behind app crashing.
Test fairy test videos for apps like Android , iOS and others along with native apps and also other miscellaneous apps that are developed on platforms such as Phone Gap, cordova, Xamarine,adobe etc.
#2 SonarQube
SonarQube is an open platform that fosters managing code quality of the apps developed. It is a web based application that keep a note on metrics of the coding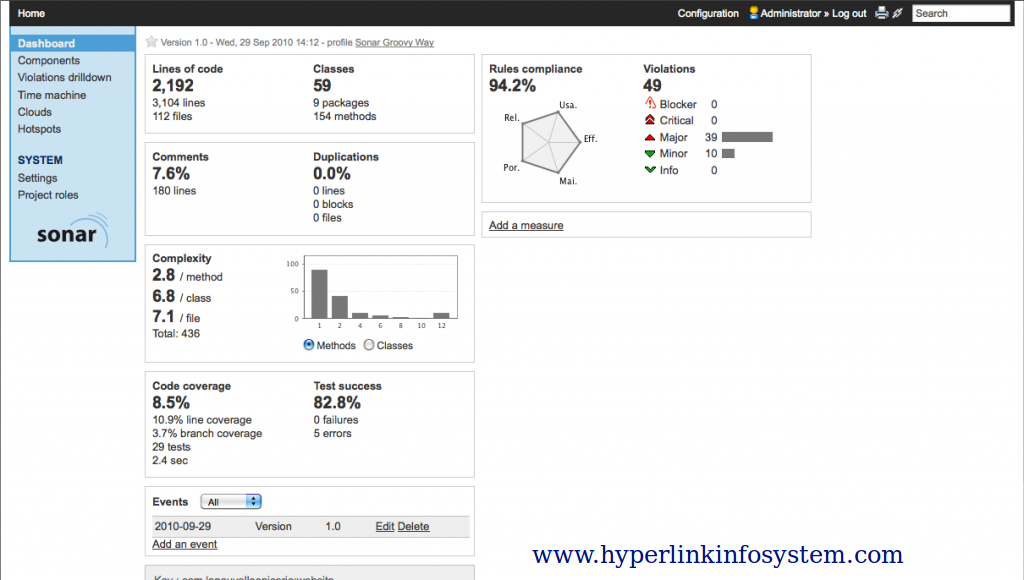 done and delivers inputs about the module. It can fold up 20+ programming languages like C/C++, Swift ,Python, COBOL through plugins that allow us to see fixes and gaps as they occur frequently. It has developer compartments which authorizes each and every developer to hunt out their own codes – the ones they developed and endowed to the project and motivates them managing code qualities through best ever practices.
For undertaking testing of android apps you need to fix up SonarQube inside web server along with sonar-android plugin installation and for iOS apps, plugin Sonar Objective – C plugin is into consideration.The Project analysis is done through SonarQube runner or Maven.
#3 Ubertesters
It is one of the best alternative when you need to deal with cloud based testing . Ubertesters helps you out with cloud-based tools & techniques that manages beta testing for mobile apps. It is fortunate with bug tracker support of Red Mine ,Jira, You track, Mantis and HPQC. Developers can ship all the bugs found through any bug-tracing system. It also fosters testers to work off-net and submission of bugs without net connection.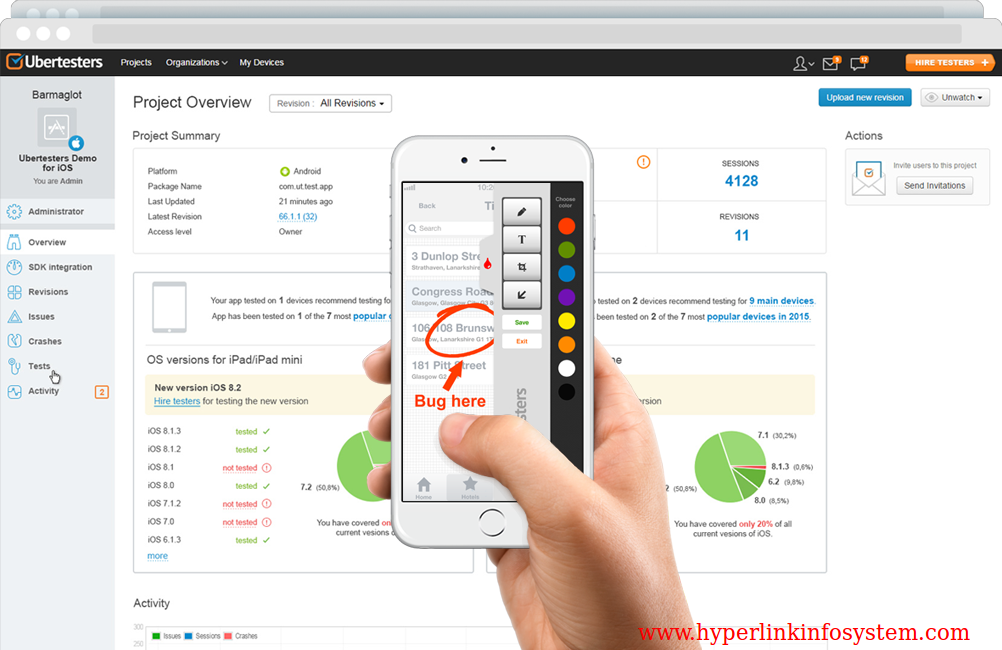 It is a free tool that can be used for an optimized testing process. It offers features like editing of in-app bugs, Reports generated for Users feedback, Over-the-air (OTA) App distribution, app testing services etc. It also provides permission to access professional testers that helps enabling and disabling specific type of build for testing purpose. New builds are transmitted to testers through OTA. Real-time testing trackers are possible in ubertesters.
Ubertesters are used for both android and iOS application testing.
#4 Test flight

It provides online testing for mobile applications ans also aids us with OTA installations. Earlier was annexed by apple but now table has turned and is tendered to iOS developers. The iOS developers that opts for sign-up process can distribute their apps developed from beta testing to internal as well external testers.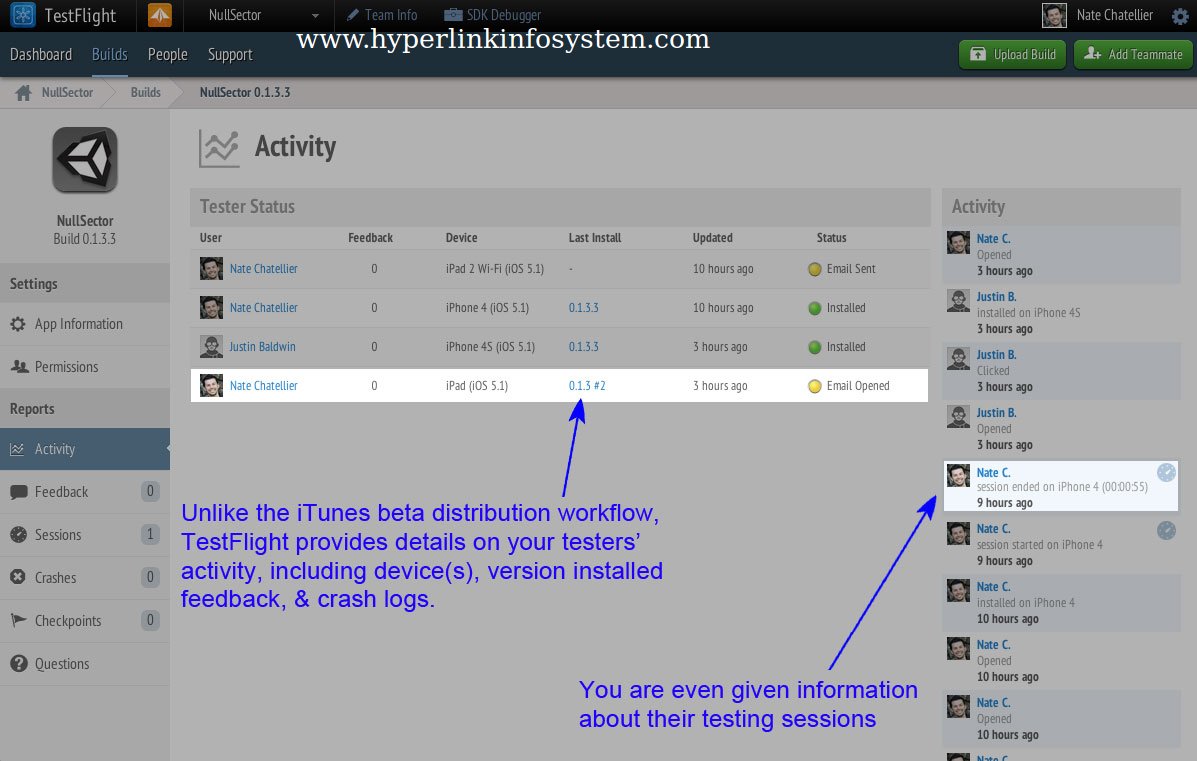 The beta testers than send all the logs, trash and crash reports , feedback and reports about the application . Till 25 testers are allowed to connect to iTunes and can download and test the application with the help of 'Test flight'. Each tester are allowed test build till 10 devices but however you can invite till 1000 beta testers fro testing devices.
Summing Up of Testing Session
iPhone Application Development is a journey full of bug. There is no simple and easy way out for testing. There are times when the developing team will stare with face blank at the screens-confused. Hire iPhone App Developer that will find out the best ever tool to fix up your bugs and can help put right key UX/UI issues before launching of app. Be smart and decide your journey with the right tool. Stay calm and Happy Testing ..!
Back